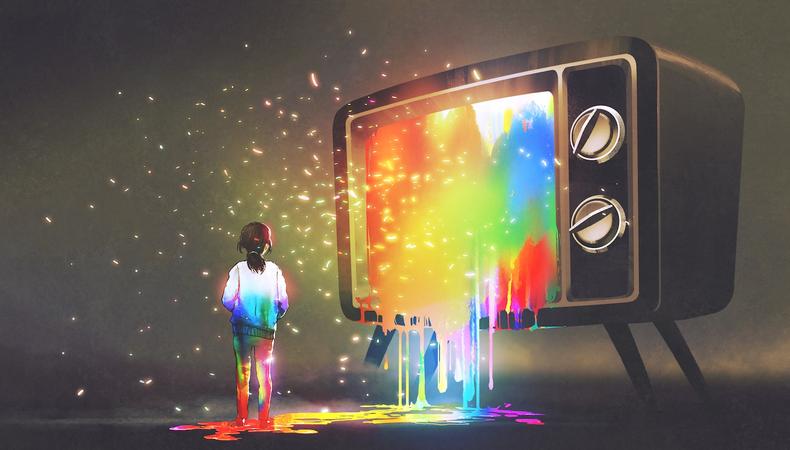 Nontraditional characters, storylines, and artists remain significantly underrepresented on America's screens, new data suggests. While this is not news to many—particularly audience members and industry workers within marginalized demographics—the statistics are inspiring outcries.
A new report from USC Annenberg reveals that despite progressive movements and heightened awareness about the need for representation and inclusion in media, change is almost imperceptible in the final products on audience's screens.
In an assessment of an 11-year sampling, the Annenberg Foundation—one of the country's most aggressive watchdogs on representation in Hollywood—has tallied more than 48,000 characters and 1,100 films. Within the top 100 films of 2017 and including 4,454 speaking characters, data reveals that male characters dominate 68.2 percent of plotlines compared with female characters at 31.8 percent. When it comes to screen time, female characters saw only a 1.9 percent boost in 2017 compared with the numbers of 2007. When it comes to leading role proportions, there was nearly zero growth for female actors between 2016 and 2017, stagnating at 34 percent.
As for the artists behind the screen, only 4.3 percent of the directors from the study's overall sampling were women. In the top-line production leadership titles of director, writer, and producer, only 18.2 percent were female while 81.7 percent were male. Out of 111 composers working on the top 100 films of 2017, only one was a female.
According to 2016 findings from the Motion Picture Association of America, half of the country's moviegoers are female; that year, a majority-female audience saw three of the top five highest-grossing films.
When it comes to race and ethnicity, white characters still make up the bulk of storylines: 70.7 percent. From there, diversity is split into small slices: 12.1 percent black, 4.8 percent Asian, 6.2 percent Hispanic/Latino, 1.7 percent Middle Eastern, less than 1 percent Native American, and 3.9 percent mixed race.
For artists of color behind the screen, Annenberg's findings are consistent with embarrassingly low numbers suggested in the Directors Guild of America's findings earlier this year. Black female directors have it particularly tough—only four individuals have worked on the top 100 films from the years assessed.
Diverse sexual identities are also still underrepresented in films, with a significant tilt toward gay males when queer characters are represented at all. Annenberg finds that there has been no change since 2014 in the number of LGBTQ characters onscreen. Nearly 68 percent of queer characters are white; most are adults, with only eight youth characters. This year, GLAAD released its annual report on sexual diversity on screens, suggesting that 2017 was the worst year for representation since 2012.
For characters with disabilities or who are differently abled, Annenberg says that there is only 2.5 percent representation among the top 100 films in the study's span; within that number, most characters have physical disabilities, and most are male and white. According to data in the report, roughly 18 percent of Americans live with disabilities.
Researchers are classifying exclusion as an "epidemic of invisibility" in Hollywood. So, what can be done? Annenberg offers some ideas: the first is an inclusion rider, a contract stating an artist will only sign on to a project if there is demographically representative casting in the film. Frances McDormand pushed this concept into the mainstream during the acceptance speech for her Oscar this year. The second action is the urging of studio companies to set inclusion goals for plotlines and casting publicly so there is a measure for artists and audiences to scrutinize a company's growth—or lack thereof.
Annenberg also pushes another simple solution: the theory of adding five. If five female speaking characters are added every year to the top 100 films—be they principal roles, supporting roles, or background roles—the status quo of diversity will become more normalized year-over-year. The same principle can be applied to other marginalized communities relating to race, sexual orientation, and disability.
There might be some ways for lawmakers to help out, too. In California, the state Legislature is now requiring projects receiving tax credits to report on their production's diversity and inclusion.
"As the reverberations of the #MeToo and Time's Up movements continue to resonate in the entertainment industry and beyond, this investigation marks how far we still have to go," said the report's co-author Dr. Stacy L. Smith. "Addressing the lack of inclusivity in cinema is an essential part of building a future in which talented individuals can safely create, inspire, and entertain audiences who are finally able to see their own challenges and triumphs onscreen."

Check out Backstage's TV audition listings!