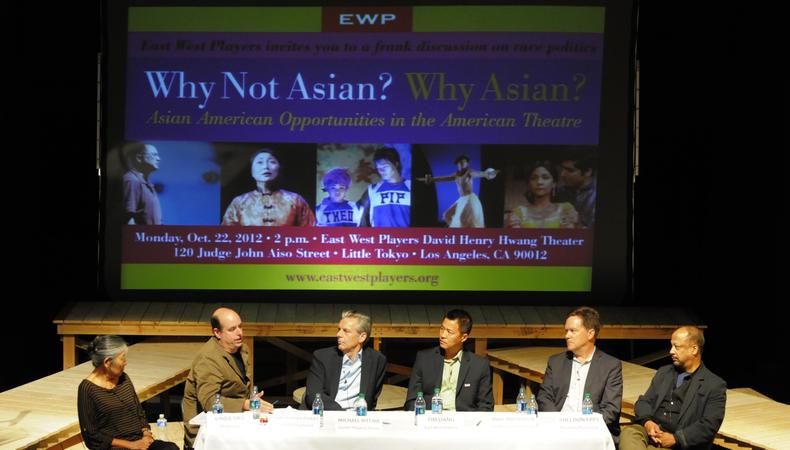 Los Angeles theater executives are mulling whether a director's artistic vision is compromised by a push for diversity.
Critics have said Asian-American, African-American, and Latino actors have limited opportunities on American stages despite the country's growing diversity.
On Oct. 22, East West Players (EWP), an Asian-American theater organization based in Los Angeles, held a forum on race politics which brought out some of the top artistic directors in Southern California.
Tim Dang, EWP's producing artistic director, said those who attended, which included Christopher Ashley, AD of the La Jolla Playhouse, Michael Ritchie, the Center Theatre Group's AD, South Coast Repertory AD Marc Masterson, and Sheldon Epps, the AD of Pasadena Playhouse, couldn't reach a consensus about expanding opportunities for minority actors.
"The artistic directors want to support whatever the vision is of the director," Dang told Backstage. "We couldn't find anyone to say, 'Yes, I'm committed to diversity,' because it would intervene with the director's work."
Dang continued, "But where does the buck stop? Obviously it stops with the artistic director. [They] know what is happening in the community" whereas the director is often brought in from out of town.
Asian-American playwright Michael Golamco, whose new play "Build" opens at the Geffen Playhouse on Wednesday, said theaters don't need to be forced to diversify.
"I think time is on our side," Golamco told Backstage. "The landscape is changing, it has been for years. I take the long view: Eventually everyone will have to diversify to survive."
Golamco has written the play "Year Zero" specifically for Asian-American actors, but has made his more recent characters non-racial.
"They are specifically of any ethnicity—that's what it says in the breakdown," he said. "I'm not really interested in preaching to the choir because the choir already knows the story."
Meanwhile, Dang said the conversation about diversity in theater is just beginning. "I think that we need to really dig deep," he said. "This was only a start."