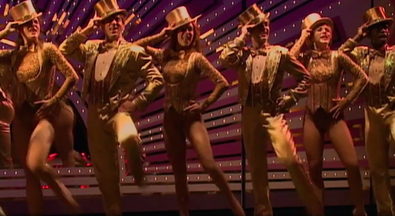 Looking for a juicy documentary to sink your teeth into on a rainy afternoon? Or perhaps you'd like to learn more about the casting or production process? These seven sensational docs provide crucial behind-the-scenes insight into various aspects of film and theater. By watching them you're guaranteed to learn something new about this crazy industry.
"Every Little Step"

How's this for meta-theatrical? "Every Little Step" chronicles the most difficult challenge an aspiring Broadway actor could undertake: booking a role in the classic show about aspiring Broadway actors. Following the ups and downs of real-life dancers auditioning for the 2006 revival of "A Chorus Line," this documentary tugs at the heartstrings of starry-eyed triple threats everywhere. The film features interviews with both struggling auditioners and the musical's creators, providing an astonishing look at what drives Broadway hopefuls.
"Looking for Richard"

Al Pacino's directorial debut is ambitious in scope yet relaxed in style. "Looking for Richard" features fabulous performances of "Richard III," excerpts by a cast that includes Kevin Spacey, Winona Ryder, and Alec Baldwin, and juggles those scenes with a broader examination of Shakespeare's relevance in American culture, questioning scholars and random passersby alike. As both Richard and the film's director, Pacino demonstrates a fierce passion for the Bard—a tutorial in both great acting and the turmoil behind it.
Tom Donahue's in-depth look at the underappreciated casting profession has been called a masterpiece by critics and industry professionals alike. Focusing specifically on Marion Dougherty, the pioneer whose casting choices shaped Hollywood throughout the second half of the 20th century, this doc asks some of the world's most iconic actors—Woody Allen, Clint Eastwood, Dustin Hoffman, and countless others—about the people who helped turn them into icons.
"The Standbys"

Speaking of underappreciated, "The Standbys" highlights some of the hardest-working performers in the theater: the ones who seldom get to perform at all. The demanding world of Broadway understudies and standbys finally gets the spotlight as director Stephanie Riggs follows three actors on the verge of their big break, as talented as the stars they occasionally get to replace onstage.
"Lost in La Mancha"

Think making a movie is easy? You won't after seeing the behind-the-scenes story of the legendary Terry Gilliam's failed attempts to film "The Man Who Killed Don Quixote." The endless roadblocks the writer-director faced include jet fighters, back injuries, and a storm washing away equipment. But his loss is our gain; co-starring Johnny Depp and narrated by Jeff Bridges, the wildly entertaining "Lost in La Mancha" is an accidental masterpiece about the filmmaking process.
"Searching for Debra Winger"

Rosanna Arquette's frank examination of women's roles in Hollywood is worth watching if only to hear from its avalanche of amazing stars: Robin Wright! Whoopi Goldberg! Frances McDormand! Inspired by Debra Winger's self-imposed retirement and "The Red Shoes," a film about a woman forced to choose between her art and love, this series of interviews lays bare the frustration still facing many female actors who dare to grow older.
"ShowBusiness: The Road to Broadway"

For a look at the hurdles, complications, and joys of bringing a show to the Great White Way, this documentary is a must-see. Dori Berinstein follows the four biggest musicals of the 2003–4 Broadway season ("Wicked," "Taboo," "Caroline, or Change," and the eventual Tony winner for best new musical, "Avenue Q") from auditions to rehearsals to opening night. We wish she would make another one every year!
Inspired by this post? Check out our film audition listings!