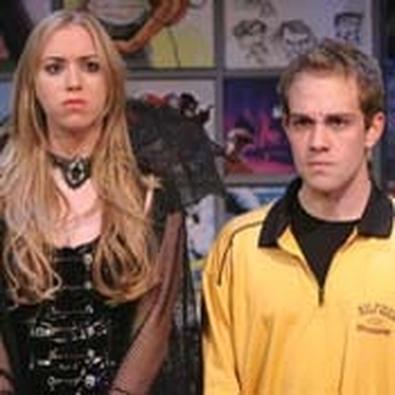 Good grief! It's Charlie Brown and his goofy pals, now in their teens but still grappling with issues of emotional insecurity and the meaning of life. Bert V. Royal's uproarious yet bittersweet Off-Broadway play is an affectionate riff on Charles Schulz's beloved Peanuts comic-strip characters, spiced up with cheeky irreverence. Director Nick DeGruccio and a spirited cast capture the humor and heart in Royal's irresistible existential comedy.
Anchoring this engagingly eccentric tale is the plight of charmingly befuddled CB (Joseph Porter), whose beloved pooch has died of rabies. The despondent youth drafts a letter to an anonymous pen pal. CB wants to know where dogs go after they die. His deep reflections lead to comic-strip-style episodes, driven by the central plot device of CB's suppressed attraction to nerdy piano prodigy Beethoven (Wyatt Fenner), who's been ostracized by classmates and labeled a fag. When this forbidden attraction surfaces as a tentative romance, homophobic campus stud Matt (Nick Ballard) goes into a rage, leading to wide-ranging ramifications for CB and his friends.
DeGruccio eloquently orchestrates tonal segues from rueful character revelations to boisterously funny scenes that satirize issues of adolescent angst: raging hormones, drug and alcohol use, jealousy and rivalry, and challenges to self-esteem. The warm and captivating Porter sublimely leads the cast as the sometimes spunky but mostly sweet and vulnerable protagonist. His excellence is matched by Fenner's multishaded portrayal, a finely calibrated blend of pitiable underdog and defiant fighter. As the villainous Matt, Ballard finds hilarity in the character's egocentric bravado, while letting us feel surprising moments of empathy for him. There's also terrific work from Christine Lakin and Lauren Robyne as the campus' giddy party girls, Jaden Leigh as a philosophical pothead, Andrea Bowen as CB's goofy identity-seeking sister, and Megan McNulty in a fresh and inspired take on Schulz's control-freak character Lucy, here imprisoned for setting a girl's hair on fire but still giving psychiatric advice. One needn't be a teenager nor intimately familiar with Peanuts to relish this alternately hilarious and heart-rending fable, which imparts universal life lessons of self-acceptance and tolerance.
Presented by Havok Theatre Company at the Hudson Backstage Theatre,
6539 Santa Monica Blvd., Hollywood.
Fri.-Sat. 8 p.m., Sun. 3 & 7 p.m. Jun. 7-Jul. 6.
(323) 960-7774. www.plays411.com/dogseesgod.