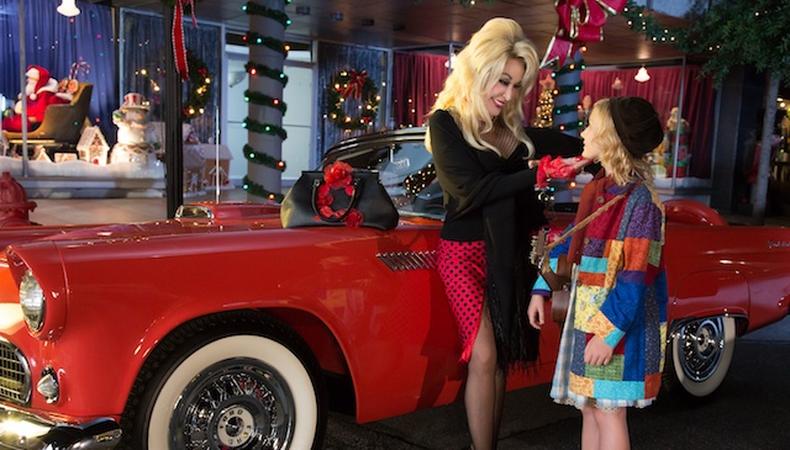 There are few living legends in Hollywood, but Dolly Parton is certainly one of them. The crossover musician has decades' worth of accolades to her name, including two Oscar nominations and nine Grammy Awards, but there was once a time when she was just a little dreamer from rural Tennessee. With NBC's Emmy-nominated "Christmas of Many Colors: Circle of Love" (the follow-up to last year's "Coat of Many Colors"), she retells her rags-to-riches story as an actor and producer. We spoke with Parton about landing a nod for Outstanding Television Movie and now taking her story to the Broadway stage.
Congratulations on your Emmy nomination! What's been your favorite part about bringing this project to the small screen?
I think it's great that I get to tell something from my childhood. People have followed me through the years and they've heard my little story and they've heard me talk about my parents and all that, and I really felt that it would be a wonderful thing to make my family look as good as I loved them for. Also, I think people are in need of a faith-based, family-oriented show these days. There's not many of those shows like "Little House on the Prairie" and all those shows that we used to love. I really think it struck a chord with people.
I actually had a chance tied to its release last year to speak with Alyvia Alyn Lind. She's such a special little actress, don't you think?
Oh, I think she's spectacular. It's almost like God sent her to us. We were really worried about finding the right kid with the right spirit and that could be understood and that could do all the little things that she needed to do. And boy, we went through hundreds of kids and I said, "I'll know her when I see her." And the second I saw her, I said, "That's her! That's her!" And we've become just the best of friends. She on her own is a wonderful little actress and she's gonna do well outside the Dolly Parton role. She's just a special, special little girl all around.
READ: Dolly Parton's 1 Piece of Advice for Kid Actors
So after seeing hundreds of girls, what is that special thing that Alyvia brought to the audition room? What were you looking for?
Well, first of all, she had to be kind of frail because I was a tiny little kid. And she had to have my color of eyes and blonde hair. Many kids tried out, and many of the great ones had brown eyes and all that. But she, it was more than the look. It had to be a spirit because I'm very high-spirited and always was as a kid. I just knew that I'd know that kindred spirit when I saw it. And I knew that she had that little fire, that little attitude, just kind of working without fear and without a net. I could tell that she was that kind of a kid. I thought, Wow, she's gonna make me look really good. I never was that pretty, but she made me look good. [laughs]
You've of course worked behind the camera on various other projects, but what was your experience as executive producer on this project like?
It's been great! These two shows, the "Coat of Many Colors" and "Christmas of Many Colors," were all about my family and my life and I had to be very involved. I wanted to have an executive producer role in that because it was just vital. But of course you learn something every time you do any project. And you just learn things without you knowing it. And I'm like a sponge, I just soak up any and everything. So I probably don't even know what all I've learned until I've applied it to something else.
Is there a third TV film in the works?
We probably will at some point because people really love it. I'd really like to do at least one more. They're talking about doing a series, but I don't know if I want to go that far because I'm also still writing my life story as a musical for Broadway and I might even do a feature film, so I don't want to overdo it until I decide what I want to do. But I would like to do at least one more for TV till all my brothers and sisters were born. I'd like to at least see the rest of the kids be born.
For this Broadway musical you're working on, are you using your songs we know and love, or is it an all-new musical with new numbers?
It's a mixture of both. I think in order to tell the story properly, I probably have to do some of the hits and how they came about in telling the story, but I have written a lot of new music, too, to fit some of the situations that I worked through and went through.
Both of these film and stage projects highlight your journey as an artist. What advice do you have for actors and other artists to stay on that road and follow that dream?
Well, I always have my favorite line: I don't give advice, I give information. Because really, I think to give advice, sometimes, could be wrong for certain people because I really [believe] that old saying, "To thy own self be true." That's a really wise statement because you really have to know who you are and what your talent really is, what you're best at, and what you're willing to sacrifice. But I would say this: It's like all rules that go with any kind of business. You have to be fair, you have to be honest, you have to be open, but you also have to know when to draw the line and when it's gonna cross the line [of] your morals and principals and values. You don't want to sell your soul. You've gotta try to stay as true to your talent as you can, and you've gotta work your ass off. You're not gonna have it handed to you, not unless you're the luckiest person in the world (and I don't know many of them). So I think hard work and willingness to sacrifice—and just believing in yourself and keeping on until you see it done.
Want to act in a network TV project? Check out Backstage's TV audition listings!