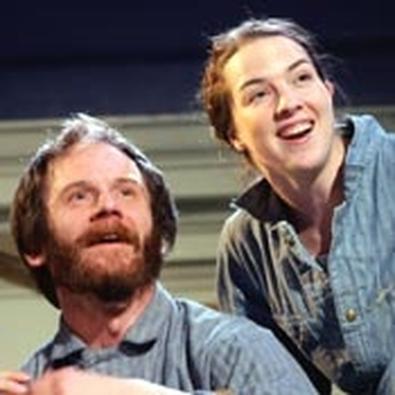 Prospect Theater Company's production of The Dome, conceived and curated by Cara Reichel, is nothing if not high-minded and ambitious. The title refers to the domed playing space of the West End Theatre — part of the landmarked Church of St. Paul and St. Andrew — here enlivened with the da Vinci-style murals of Meredith Ries and the video projections of Richard Dibella. Reichel's aims are as lofty as the dome itself, seeking to weave together with words and music several disparate story strands into a philosophical whole. Each strand has its own creative team, and each has as its face a couple, with each pair having its own story and individual performance style. Curiously, much too late in the second act, Reichel introduces some extraneous material that doesn't fit into the weave and mars the shaping of the show.
The principal strands are "Hypothesis," written by Laura Marks and directed by Stefanie Sertich, in which we witness the loving relationship of Voltaire (Dino Antoniou) and Émilie du Châtelet (Dorothy Abrahams). Here the theme of science versus faith is introduced, and it echoes throughout the rest of the play. Next strand is "Hey Baby," with music and lyrics by Marisa Michelson, book and lyrics by Rinne Groff, directed by May Adrales. We meet a young couple, Corinne (Kathryn Holtkamp) and Paul (John Gardner). Corinne has discovered she is pregnant, and Paul seeks solace in his books as a fretful father to be. "Break Time," written and directed by David A. Miller, introduces two caretakers of the theatre space, bold Missy (Sarah Bowles) and shy Martin (Andrew Zimmerman), who act out childlike fantasies, with romance as their destination. The final strand is a pair of painters, Mar-tan (Jesse Kearney) and Miss E. (Kyle Williams), a mischievous, modern commedia dell'arte couple who just want to have fun.
All this plus some well-intentioned anthems pile a lot on the plate, so at times the mystifying proceedings are in need of clarification. Paradoxically, as the various strands develop, they become overly conventional in tone. Similarly, the show's prologue features a paean to the space's acoustics, but ironically the vocal projection of lyrics in several of the songs is found wanting.
Although very much an industrious group effort, several individual performances are notable: Antoniou's intelligently characterized Voltaire, Holtkamp's attractively sung young mother, and Williams' zany clown, who injects some over-the-top antics to bring this high-minded show down to earth.
Presented by Prospect Theater Company at the West End Theatre, 263 W. 86th St., NYC. Feb. 2-March 1. Thu.-Sat., 8 p.m.; Sun., 3 p.m. (Additional performances Wed., Feb. 18 and 25, 8 p.m.) (212) 352-3101, (866) 811-4111, www.theatermania.com, or www.prospecttheater.org.