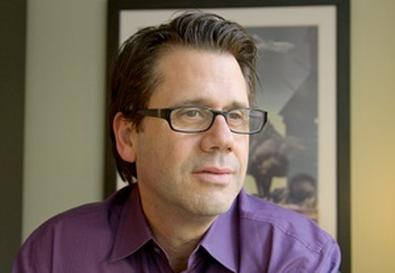 Don Birge does not want to be the agent with the dog on his lap. Nevertheless, Andy, his 3-year-old mutt, flops around the midtown
Stewart Talent Agency
office, greeting each visitor with a nudge, a kiss, and a cuddle. Birge calls Andy his mascot, and his general joviality brings a welcome friendliness to the boutique agency, an asset Birge has found important to his career.
"Casting directors will call and be like, 'You're so pleasant to talk to,' " says Birge, who is the co-owner of Stewart Talent and the head of the New York office. "But if you're calling me, that means that you're either letting me know I'm getting an offer for something or I'm getting some great auditions for something. Why wouldn't I be nice to you? You'd be surprised how many people don't want to engage in that way."
A former actor, Birge certainly knows how to charm, and while he still maintains a gestural manner of speaking, he says that performing was never his strong suit.
"The best part about being an actor was you got the job," Birge says. "And I was like, 'Oh, but now I have to go do the job.' Now I get to participate in 'You got the job,' and then I don't have to go do it."
As clichéd as it sounds, Birge had an epiphany 18 years ago on New Year's Eve: He wanted to become an agent. He interned at two offices in New York, working his way up quickly, and seven and a half years ago he partnered with Jane Stewart in Chicago to open the New York branch of Stewart Talent, which now boasts four legit agents and 190 legit clients. Betty Buckley and Carol Kane number among his roster, which consists primarily of actors with a focus on theater.
Don Birge's dog, Andy (Photo by Andy Hur)

Thanks to Stewart Talent's large Chicago presence -- it's one of the oldest agencies in the Midwest -- Birge benefits from the many Broadway transfers of Chicago-born shows. With experience working on shows such as "August: Osage County," Birge encountered firsthand the difficulty of negotiating contracts for esteemed theater actors who have little commercial billing potential.
"A show like that, that isn't star-driven, it really is about the art of it," says Birge, who also works with "August" stars and Tony winners Rondi Reed and Deanna Dunagan. "In Chicago, it really is about actors, directors, writers, producers, being artistic. Not to say that business doesn't play into it, because of course you have to make money to sustain theaters. But it's really about the process and the art of it. Broadway, even Off-Broadway, has become about selling tickets."
However, Birge has no trouble landing burgeoning actors in massive star vehicles. Client Rose Hemingway made her Broadway debut as Rosemary opposite Daniel Radcliffe in "How to Succeed in Business Without Really Trying" in 2011.
"Daniel Radcliffe was selling the show," Birge says, adding that the "Harry Potter" star advocated for Hemingway. "They didn't need to put a star in that role, but I get that if they wanted to, they could have very easily done that. But I really applaud the producers for giving Rose that opportunity."
And perhaps those producers saw something in Hemingway that Birge saw long before.
"I tend to fall in love with people pretty quickly," Birge says of discovering new talent, which he does at school showcases, through current clients, and at workshops such as
One on One
and
Actors Connection
. "And you hope that the industry sees in that person what you see in that person. And sometimes it does take a while to get that person out there and finally get somebody to get them the way you get them. Sometimes it never happens, which is disappointing. It's like that spark."