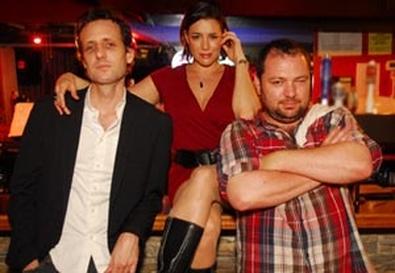 Though heavily touted as a site-specific play, "It Is Done" transcends its potential gimmickry, thanks to a sharp script by Alex Goldberg and a first-rate performance from Catia Ojeda. To be sure, the dive atmosphere of the Mean Fiddler Bar and Grill in Times Square serves the moody piece perfectly, and director Tom Wojtunik's confident staging takes full advantage of every square inch of the space. Yet we learn almost immediately that the action takes place at a windswept highway bar in the middle of nowhere, without so much as an outhouse for 90 miles, let alone a TKTS booth. Call me old fashioned, but I prefer when a site-specific piece actually takes place at, you know, the specific site.
By the time Ean Sheehy, who plays the drifter Jonas with balanced gloom, stumbles into the empty tavern and gets to talking to bartender Hank, we have forgiven the geographic incongruity. Jonas is on the run, though from what he won't say, certainly not to Hank, imbued by Matt Kalman with salient levels of zest and mania. Enter Ruby (Ojeda), a rowdy woman who, thanks to a broken down car, has also stumbled into the bar by chance. Ruby proves too irresistible, and Jonas soon opens up about the nightmares he's been having involving a violent childhood incident. To reveal any more would spoil the fun, but it's fair to say that there are forces much larger than chance at work in Ruby's arrival.
Vague supernaturalism, whiskey, and Hank Williams on the jukebox make this Sam Shepard's stomping ground, but Goldberg keeps a sure footing. The playwright has a keen gift for dark humor, as well as an enthralling style of slowly unspooling information. Ojeda's performance drives the production, featuring densely textured line readings that make each word sound like its own sentence. She plays Ruby as the ultimate alpha female, zipping ably among the seductive, comical, and dangerous aspects of her character while leading poor Jonas (and us) to whatever grotesque place she pleases.
Presented by 22Q Entertainment and Go AlleyCat Productions at the Mean Fiddler Bar and Grill, 226 W. 47th St., NYC. Nov. 8–Dec. 5. Mon. and Tue., 7:30 p.m. (No performance Tue., Nov. 22.) (212) 561-0407 or www.itisdonetheplay.com.