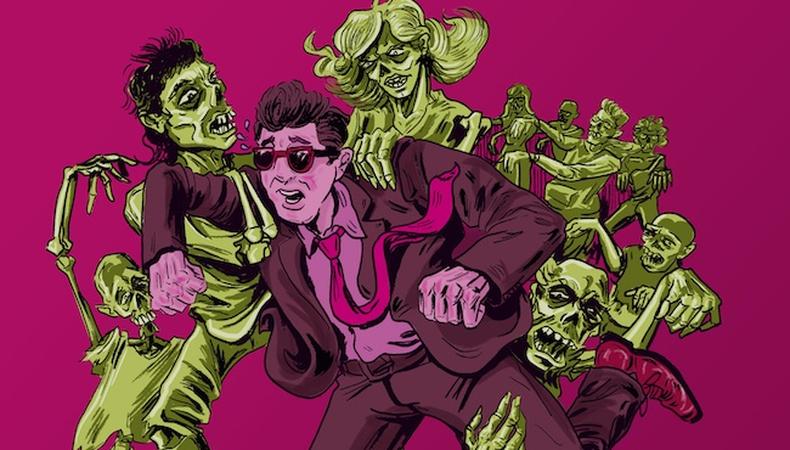 I'm ending the year doing something I swore I would never do again. I'm dating an actor. But in my defense, it's not a younger woman who needs help getting her union card. She's a woman in her 30s with an extensive résumé who is represented by a bigger agent than me. So there.
Anyway, the future Mrs. Secret Agent Man is part of a respected theater company, and I just went with her to their holiday party. I'm not usually comfortable surrounded by a pack of actors because I always feel like they could turn into a bloodthirsty crowd at any moment and tear the limbs from my body. But this was a pretty cool group.
At one point, I was talking to an actor about the holidays. This guy was very charming and entertaining. Until I mentioned I was an agent. Then, all of his appeal went right out the window. I literally watched as he tensed up, unsure of how to interact with me.
Sadly, this sort of thing happens all the time. A lot of you aren't very good at agent encounters, especially when they occur in the wild. It's as if you suddenly realize you're speaking to someone who can help your career and your brain leaps into high gear, trying to figure out what to say. This is absurd, because most of us are human and if you approach agents the right way, we're more than happy to engage.
READ: 5 Things You Need to Know About Your Agent and Manager
To help you handle these encounters, here are a few tips based on conversations I've had to endure with uncertain performers. These tips are also inspired by lessons I learned the hard way when I was an assistant trying to find my way in an uncertain world.
1) Don't focus on the negative. Actors always default to complaints about the industry. That's boring and I hear it all the time, especially from the voice inside my head. So be positive. No one likes a whiner.
2) Don't talk about yourself. Every conversation doesn't have to be about you. Try not to be the stereotype of a narcissistic actor. Instead, consider the immediate surroundings. If you're at a gallery, talk about the art or the cheap wine they're serving.
3) Don't forget to listen.
Actors always have an agenda.
If I mention the weather has been unseasonably warm, you can't respond with how badly you need a new agent. That just makes you sound like a crazy person.
4) Don't forget to ask questions. It shows you're interested. And most people love to talk about themselves. So engage. Ask questions. Listen. It's easy!
5) Don't ask for anything.
I hate being pitched by actors in a social setting. It makes more sense to form a connection you can follow up on later. Telling me you need new representation at a party will make me dismiss you, unless your name is Ryan Gosling. Telling me you need a new agent in an email you send a week later is totally cool.
There aren't a lot of certainties in this business, but I guarantee these five tips will help you maximize any encounter you have with an industry professional. So keep them in mind as you start the new year. And have a great, heartwarming holiday!
Ask SAM about this and more on the Backstage Community forums today!