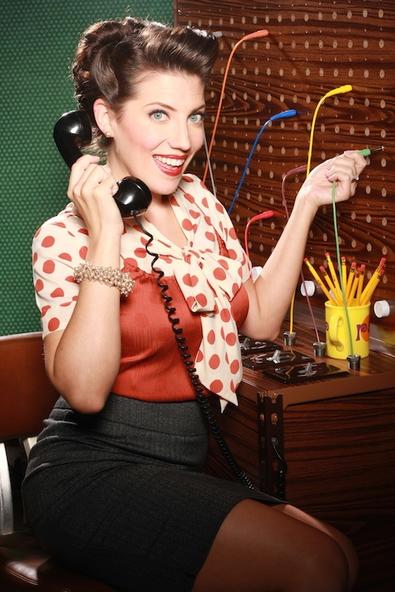 Being a professional actor herself from 2002–2008, Michelle Dyer set out to find a solution to a common actor problem: finding reliable survival jobs that didn't take over an actor's life, and that, of course, paid the bills.
"I remember sitting on the floor of an audition like, I just got back I don't want to go out of town again. And so I'm on the dirty floor of Actors' Equity, the room is completely crowded, and I'm asking friends for temp agency recommendations. I'm scooting from friend to friend asking for recommendations. [And I thought], There has got to be a better way to do this," Dyer says. When she went home at night and went online to find that better way and there wasn't one, she created it herself.
Since 2008, Survival Jobs for Actors is a resource that curates temp agencies, catering companies, and the likes, and gives performers the basics such as a company's phone number and website, and how best to apply for a job.
"I just contact a temp company and I say, 'How do you want actors to contact you? What's the best way for someone to apply?' Because even when you go and you [do a Google search of] temp agencies…I don't even know. There are probably hundreds in the city.
"So Survival Jobs is kind of…I do the research; it's kind of like a best friend guiding through the process. Instead of searching and wasting your time, I've done the research for you to kind of streamline it," she explains.
And though Michelle is based in New York, Survival Jobs' opportunities span the nation, with listings in Los Angeles as well as regional locations.
Passionate about her resource, Dyer says, "There are so many opportunities out there for actors to make money so they don't have to live off their savings or be a starving artist. There are all these opportunities—I just want to impart my knowledge on other people so they have that jump start when they get here so they can just hit the ground running," noting that when she got to New York from Ohio in November of 2002, she had nothing but two suitcases and quickly burnt through her own savings.
Dyer chats with Backstage and imparts some of that great knowledge about the do's and don'ts of survival jobs.
DO look beyond the obvious survival jobs.
"Waiting tables is an obvious [one]. There are catering gigs that happen on nights and weekends; there's coat check. I had no food service experience so one of the catering companies wouldn't even talk to me about catering but said, 'You know what, let's have you be a coat check girl.' So I would do coat check for them, and they had a big catering gig where they needed a lot of new people so I got in and I was a catering person."
DON'T overlook promotional work.
"Promotional work is great. I really didn't even know that that existed when I moved to the city," she says. "They need you to hand out samples or take a survey or dance in a flashmob, and they just need somebody friendly and outgoing to represent their brand."
DO look into temp jobs.
"Temp work spans the gamut for stuff that they need," says Dyer. "They can need someone just for stuffing envelopes for a day. Literally, I've been hired to stuff folders, but I've also been hired to be an executive assistant, and when you go into a temp agency they ask what your experience is; I love that they try to personalize the opportunities for your experience."
DON'T let your survival job get in the way of auditioning.
"You don't want to let your survival job get in the way of auditioning. You don't want it to get in the way of what you came to the city to do, so that's a big pitfall that I see a lot.
"It kills me to see friends and they're just like, 'Yeah I worked a late shift from 9 p.m. to 4 a.m. and I'm exhausted.' And they're dragging in their audition…Well, how is that helping you fulfill your dream and do what you came to do? If that late night bartending job isn't working out for ya, let's look into a temp job—let's look into something else."
DO have a non-business résumé and DON'T underestimate your skills.
"You have to make a non-business résumé for a survival job. So actors will walk in there and walk in with an acting résumé and a temp agent will just go…'No, no, no. Let's just start over.' So people think they don't have skills for 'real world jobs'—they do.
"Promotional companies just want somebody presentable to just be smiling and friendly and outgoing. Well, actors can do that; that's easy. Temp jobs—a lot of them are reception. They want actors. Why? Because they're typically good-looking, presentable—they are friendly and they're congenial and they'll smile. And we're pretty darn smart. I mean if you've gotta memorize a whole entire script, you've got a brain!" Dyer explains.
"Improv, acting on your feet…those skills are marketable to employers. So you might not have the exact right background for employers that you would think you need for real world jobs, but go in and talk to a temp agent, talk to a promotional company and tell them your background and they'll help you put together a non-business résumé because we do have skills that crossover."
Already have a great survival job? Then check out our audition listings!