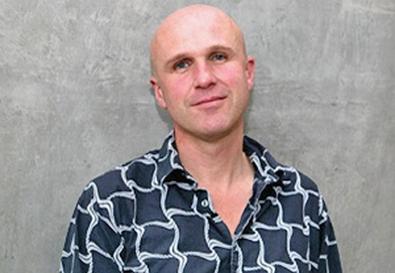 To begin with, "An Oak Tree" is a play. It's a play about loss and the power of suggestion. It tells a story about two men meeting after a tragedy. A story that is funny and simple and complex and occasionally heart-rending. It's a play written to be performed by two actors. I'll be the first one. I know my lines. The second actor, however, will have never seen or read a word of the play they're about to be in until I invite that actor on stage at the beginning of the performance. There is a different second actor every time "An Oak Tree" is performed—an actor, male or female, who meets me for the first time an hour before the show begins. So far, there are 251 actors around the world who have performed the show with me. By the end of my six-week run at the Odyssey Theatre in Los Angeles, there will be 30 more. The second actors are the stars of this play.
My work is about the live moment. I tell stories, but the heart of my work cannot be recorded, or written down, or transferred to TV. It's what happens between an actor and an audience—in a space and a time that cannot be repeated. For one night, the cast of the play will be this. Tomorrow night, 50 percent of the cast will be different. And so on. There's no chance to go back, to work on things we might have missed, to rehearse, to get it right. There is no rehearsal. There is no "right."
Before the play begins, I tell my second actor this: How we will do the show tonight will be different from how it's ever been done before or how it will ever be done again. I suggest to them that they trust their instincts. I say that they cannot get it wrong. I invite them to have some fun.
Frances McDormand, who did the show in New York, described it to me as like getting a massive "shot" of theater—from the first read-through all the way to the last-night party—in the space of a couple of hours. F. Murray Abraham said it was the essence of spontaneous acting.
I wrote "An Oak Tree" partly because I wanted to be that second actor. I wanted to experience the thrill of walking on stage and entering a black hole—responding moment by moment, not knowing where these moments were leading. It's the definition of a brilliant performance: Don't play it until you get to it. In the play, there is no chance to do otherwise. My job is to facilitate that black hole—to guide and release and prompt the second actor's journey. I offer simple instructions; I feed them their lines. I induct them into the story. Within this form, I then let them go. My request to them is that they be open. And, in turn, I must be open to anything and everything they do. No preparation. However old they are, that's how many years they've had to prepare for this moment.
To end with, "An Oak Tree" is a play. The reason that there's an actor present who has lost their compass on stage is because they're playing a character in the story who has lost their compass in life. The device is there to deepen the story. The story came first. That's why every word in the play is scripted. This is not comedy improv. This play knows where it's going even though the actor in the middle of it is making it up.
Tim Crouch is a British playwright and actor. His award-winning play, "An Oak Tree," runs at the Odyssey Theatre in Los Angeles through Feb. 14. (310) 477-2055. www.anoaktreela.com. www.newsfromnowhere.net.