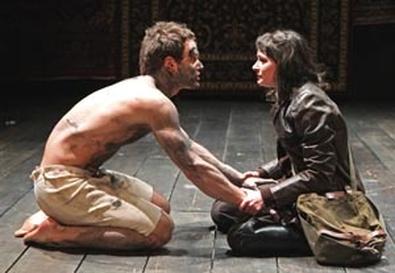 The production of a lost play by Shakespeare should be cause for rejoicing, but Classic Stage Company's mounting of "Double Falsehood" inspires nothing stronger than a shrug of the shoulders and an indifferent "Meh."

Allegedly found in the 18th century and adapted by Lewis Theobald, the work is believed to be an adaptation of "Cardenio," a missing collaboration between the Bard and John Fletcher. "Double Falsehood" was regarded as a hoax for three centuries, until the editors of the Arden Shakespeare, a well-regarded scholarly edition of the Bard's work, recently endorsed the play as authentic and made it available for production. That's all very fascinating for academics, but for theatergoers the production comes across as a hodgepodge and a dry literary exercise.

The script is an amalgam of Shakespearean conventions, including a cross-dressing heroine ("Twelfth Night," "As You Like It"), true love thwarted by obstinate parents ("Romeo and Juliet"), a mud-smeared madman telling truths ("King Lear"), a good brother/bad brother conflict ("Lear" again), cunning disguises, and stunning surprises.

In a nutshell, villainous, well-born Henriquez rapes and abandons the virtuous Violante to pursue the wealthier Leonora, who is in love with poor but honest Julio. The double falsehood of the title refers to the cad's betrayal of both the wronged Violante and his former friend Julio. When Violante dons the apparel of a simple shepherd boy to find her attacker, whom she now apparently and inexplicably loves, and then Roderick, Henriquez's saintly sibling, steps in to right his brother's wrong, all's well that eventually ends. There are several holes in the plot, the biggest being Violante's attraction for Henriquez. At the beginning she rejects his suit, which drives him to molest her. Why would this otherwise intelligent young woman want to marry such a creep when she found him repellent earlier? Restoring her honor is not motivation enough. The rest of the Shakespearean canon provides timeless insight into human behavior; this work is more like a relic of outmoded plot twists.

Director Brian Kulick has staged the play in a vast empty space and has the cast move huge rugs around to denote changing scenes, as if they were working at the ABC Carpet Warehouse. Fortunately, he drops this repetitive choice in the second act, and the staging settles down to a competent depiction of the action. The acting seldom rises above the passable, with Slate Holmgren going way over the top as the slimy Henriquez. Hayley Treider, as Leonora, musters some honest passion as the lady fights off her despised suitor, but these are brief sparks, not a sustained flame. Philip Goodwin and Jon DeVries are reliably solid as the interfering fathers, with Goodwin pulling extra duty in the utilitarian roles of a citizen and a shepherd. The best thing that can be said about "Double Falsehood" is that it's giving these veterans some work.

Presented by and at Classic Stage Company, 136 E. 13th St., NYC. March 22–April 3. Tue.–Sat., 8 p.m.; Sat. and Sun., 2 p.m. (212) 352-3101, (866) 811-4111, www.theatermania.com, or www.classicstage.org. Casting by Calleri Casting.