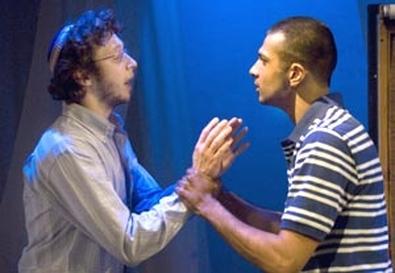 Dov and Ali
, Anna Ziegler's new play, begins thus: "Once upon a time, in the middle of a school in the middle of Detroit in the middle of the United States of America, there was a confused teacher and there was a precocious student.... Both had fathers whose love was opaque, hard to measure and make out. Both had names and families and objects they treasured, favorite foods and preferred seasons, a time of day that made him happiest. In short they were human beings." It should be added that the student is a Muslim and the teacher an Orthodox Jew—and beyond that, do we really need to add anything?
What follows is exactly what you expect. If you think it sounds inspirational, you'll be moved. If you think it sounds turgid, you'll be rolling your eyes. There are no surprises. The plot proceeds not by logic but by convenience, with characters knowing whatever's required to advance the dialogue while remaining ignorant of whatever might impede it.
The four actors give the performances asked of them. Adam Green is the unsure teacher, Utkarsh Ambudkar the too-sure student, Heidi Armbruster the shiksa, Anitha Gandhi the Muslim woman who dares to think. These are, of course, ideas, not characters, but the actors poke a few nice grace notes through the thick surface.
Something similar happens in the writing. In the toss-away moments, where the dialogue is lived-in rather than hurled to make a point, Ziegler is smartly observational. Perhaps she had to write this play, but I look forward to seeing future, less important works.
Presented by the Playwrights Realm at the Cherry Lane Studio Theatre, 38 Commerce St
.,
NYC. June 12
–
27. Tue
.–
Fri
.,
7 p.m
.;
Sat
.,
2 and 7 p.m
. (
212
)
239-6200
, (
800
)
432-7250, or www.telecharge.com. Casting by Stephanie Klapper
.