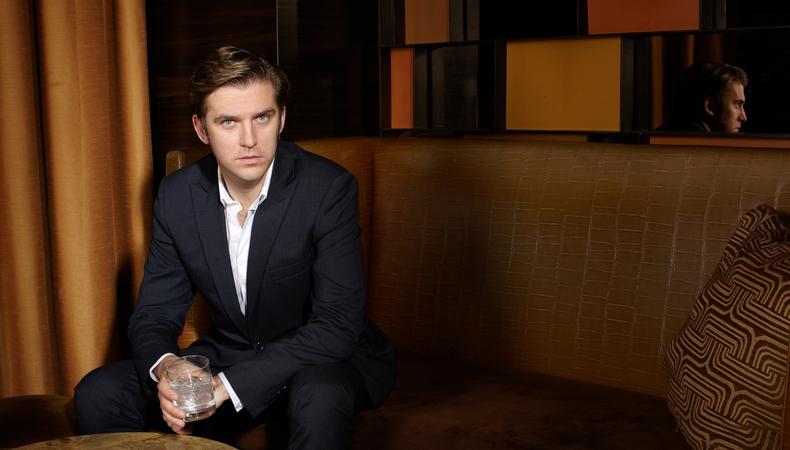 Dan Stevens is learning to act American. When offered a cup of tea, the British star kindly requests coffee. He jokes about how his waiter at dinner last night couldn't understand his pronunciation of "water," and just to prove that he's got the accent down—the one he's been perfecting for his upcoming Broadway debut—he slips into a faultless impersonation, right down to the sarcasm. "I'm sorry, water," he says with a laugh.
He's been working on this dialect for a while, using what he calls his "parrot-like" abilities to take on an American character for the first time as Morris Townsend in "The Heiress," which opens Nov. 1 at the Walter Kerr Theatre. "It's a warm and welcoming community," Stevens says of Broadway while sipping a Starbucks Americano. "You really get that community sense more than in London."
Stevens stormed onto the national scene as heartthrob Matthew Crawley on cult-hit import "Downton Abbey," though Morris and Matthew are entirely different beasts. Matthew is the Downton estate's heir apparent, while Morris is an alleged fortune hunter.
"There are different ways you can go with this role, and I think they wanted to go slightly against the conventional grain of the mustache twiddling villain," Stevens says of Morris. "If you think Morris is a gold digger in the first scene, the play becomes less interesting."
Based on the 1880 Henry James novel "Washington Square," "The Heiress," by Ruth and Augustus Goetz, is set in 1850s Manhattan. Morris courts the plain Catherine Sloper, the lone beneficiary of her wealthy father's will, and Morris' romantic intentions come into question when Catherine suggests the pair elope, forfeiting her inheritance. The revival marks the fourth on Broadway—the last was in 1995, starring Cherry Jones—and features Jessica Chastain and David Strathairn under the direction of Moisés Kaufman.
"He's a thinking man's actor," Kaufman says. "In casting Morris, you need an actor who can be very emotionally available but also very smart. What I love about Dan is that he's an actor who has great emotional range, but he also has great intellect."
And that intellect is apparent from the outside in. Sporting a fitted navy suit as crisp as his accent, he drops words like "aesthete" and "avuncular" into casual conversation, unconsciously acknowledging his European etiquette and Cambridge education. Perched on a plush chair on the mezzanine level at the Empire Hotel at Lincoln Center, Stevens ignores the early morning hubbub in the lobby below. He rests his elbows on his knees and leans forward, giving each question his full attention.
His charisma and Prince Charming looks make Stevens a winning candidate for well-dressed countrymen in period dramas. While Stevens enjoys exploring the foundations behind history—and can talk intelligently on the subject—he's also good-natured about it. "That's one of the purposes of period drama," Stevens says. "Another purpose is just to see people in very pretty dresses in very beautiful houses, and there's nothing wrong with that."
This sense of humor is what keeps Stevens playful in the rehearsal room. Though the 30-year-old became a father for the second time in May, his youthfulness helps him as an actor. "He's the troublemaker on the team," says Kaufman, careful to clarify that "troublemaker" is not a pejorative. "You're in the middle of a serious scene and you take a pause and he starts clowning around. It's been very welcome."
This love of pranks initially started as disruptiveness in the classroom. His teachers ushered him toward the stage as a way to channel his energy and make for less distracting behavior. "It was a good outlet for me," he says. In high school, where he was a scholarship student among wealthy pupils, Stevens met one of his early supporters, his English teacher Jonathan Smith. Smith cast Stevens in the title role in "Macbeth" when he was 14. "He claims I strode into the room and said, 'Let me audition for "Macbeth"!' " Stevens remembers. "But I'm convinced that's not how it was. It intensified the bug to want to do this."
Stevens credits Smith with encouraging him to study at Cambridge, where he got a degree in literature and participated in drama recreationally, as the university didn't have a theater department at the time. "That was one of the great things about it," Stevens says. "Everything you did onstage, be it standup comedy or Shakespeare or Beckett, was entirely student run. You maybe applied for a bit of financing from a college to make your $20 costume. It was produced, directed, publicized, lit, designed by students. There were no teachers telling you what to do, and that was incredibly liberating. You could literally do anything."
While at university, Stevens tried his hand at directing a production of Oscar Wilde's "The Importance of Being Earnest," in which he played Lady Bracknell. ("Maybe that's a role I'll reprise someday," he says semi-seriously.) The role that really launched his career, however, was the same one that gave him his start in high school. This time he co-starred in the Scottish play with Sir Peter Hall's daughter, Rebecca, and as a result of meeting during the production Hall cast Stevens as Orlando in his touring production of "As You Like It," which marked Stevens' U.S. stage debut in 2005.
"If you don't go to drama school, and I know a number of actors who didn't go to drama school who feel like this, you always feel like maybe you missed out on something or people won't necessarily take you as seriously," Stevens says of his work with Hall. "If you work with certain directors or you do certain kinds of work, it kind of puts a stamp on your passport. I think I've got over that feeling now. It took a while to go away. This sense, 'Am I really allowed to stay doing this? This is amazing.'"
Chances are Stevens will be doing "this" for a long time, and maybe more often on this side of the pond. Within 24 hours of the opening of "The Heiress," Stevens' first American film, "Vamps," starring Alicia Silverstone and Krysten Ritter, will hit theaters. Season 3 of "Downton Abbey" premieres in the U.S. in January, and when asked what roles he would like to dig into after that, his answer is surprising.
"With Morris, we're edging toward a slightly more villainous territory," he says. "And I haven't played too many villains, I suppose. I'm always looking for something different, something a little strange. I'd love to do something set in the future; I've done a lot set in the past."
As for Stevens' own future, he says, "My life in my head goes up until about February when the play finishes. It's blank after that." It won't be blank for long. Stevens is rumored to be departing "Downton" after this season in favor of working more on Broadway. And he's in good company. Stevens is riding a wave of British actors who have been successful in the States, such as James Corden, who took home the Tony for "One Man, Two Guvnors" this year, and the always appealing Colin Firth, who won his first Oscar in 2011 for "The King's Speech." And people are starting to call Stevens the next Firth.
"It's a very flattering comparison," Stevens says, listing other U.K. actors who have been successful stateside, such as Dominic West and Damian Lewis. "These are guys whose careers I would love to have. It's very heartening if people see you like that."
Stevens hasn't quite achieved the same household-name status yet; fans recognize him by his "Downton" moniker, not his real name, which he acknowledges is a common one. He jokes about the popularity of it on Twitter, which he actively uses to engage his fans. "There are some people on Twitter who call themselves 'the,' and I didn't like 'the,' " he says. His Twitter handle is @thatdanstevens. "I'm not 'the Dan Stevens.' There are lots of Dan Stevens. I'm just that one."
"That one" is a pretty good one to be right now, and Stevens encourages young actors to keep a level head and a sense of humor about the business. He learned the importance of this childlike spirit from the most poised of actors, Dame Judi Dench, when they worked on "Hay Fever" in the West End in 2006. "We're not proper grownups," she told Stevens of actors, and he has taken that to heart.
"As grownup as I feel being a dad and just turning 30," he says, "I'd like to not be a proper grownup."