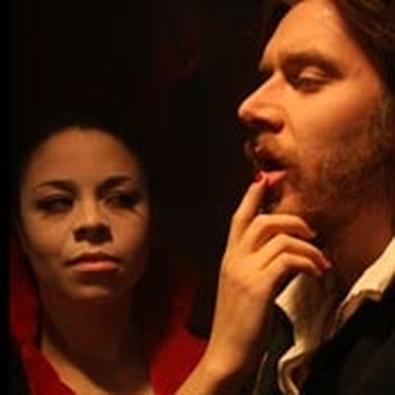 Off-Off-Broadway is largely accomplished by smoke and mirrors. The mostly youthful, volunteer actors; donated costumes and props; erratic underwriting; no publicity budget; and frequently ad hoc venues comprise the alchemy that comes up against bottom-level ticket prices. The miracle is that so much good work surfaces in spite of these conditions. On the other hand, uncertainty and disparity can override the best of intentions and create the opposite of synergy. Unfortunately, that's what we have in this production of Dr. Faustus from the Queens Players. Despite a compelling, knowing, and committed performance by Daniel Wolfe in the title role, Christopher Marlowe's circa 1588 but evergreen play about a pact with the devil is largely ill-served by director Richard Mazda's frequently overwrought and grab-bag production.
Marlowe -- the first great English dramatist and an exact contemporary of Shakespeare --was killed at age 29, before he could compete with the Bard in prolixity. He combined his sense of the classics (as a translator of Ovid and Lucan) and a serious view of humanity with a delicious contemporary satire of church and state into a fluid tale of the competing forces of good and evil. Familiar over four centuries of incarnations, the good but dull Dr. Faustus, lusting after fame, money, and pleasure, dips into a study of necromancy, which leads to his conjuring up the devil and assorted assistants -- and the deal that results in his damnation.
There is plenty of literal smoke in this production (nontoxic, we're assured) as characters emerge from the lower depths of Mazda's hellish red scenic design. (He also provided the often-intrusive sound design.) But the mirrors here are not looking glasses illuminating anything; they're bits of business that distract from the theses at hand. Thus Mephistophilis (Crista Marie Jackson) is portrayed barebellied and with deep if fetching décolletage, rendering Lucifer's chief lieutenant more sexually seductive than counter-Christian. The Pope (Vincent Ingrisano) gets a pie in the face, not once but twice. Lucifer himself (Daniel Smith) is more supercilious than menacing. Amongst the seven deadly belly dancers, in a show representing the same number of sins, Sloth (Kat Gang) is an early 1970s hippy slacker with an afro hairdo. The Good Angel (Whitney Stone) wears a Shirley Temple fright wig, a vaguely 1930s dress, and fur wings. You get the idea.
Because Wolfe is the only actor on stage -- in a cast of 13 -- with a fully developed sense of language, poetry, projection, period, and the wholeness of the play, it would have made more sense to build this production around him as Dr. Faustus instead of plopping him down into an equal-opportunity sideshow.
Presented by the Queens Players
at the Secret Theatre, 44-02 23rd St., Long Island City, Queens, NYC. Feb. 12–28. Wed.–Sun., 8 p.m. (Additional performance Sat., Feb. 21, 4 p.m.)
(212) 352-3101, (866) 811-4111, Theater Mania, or the Queens Players.