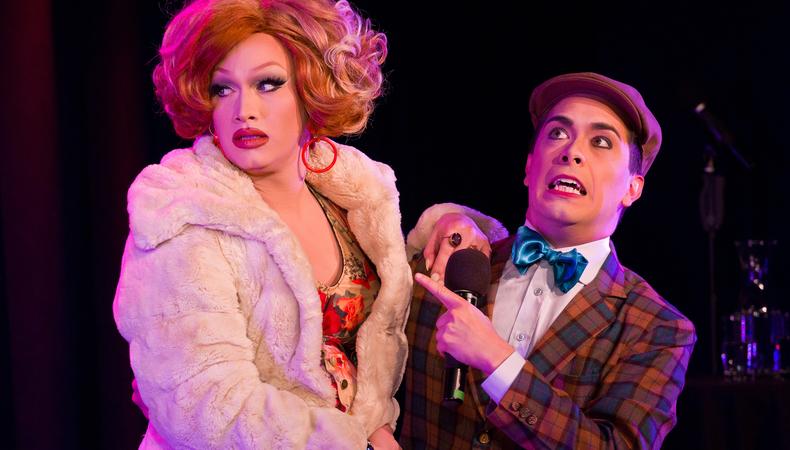 Most people know Jerick Hoffer as Jinkx Monsoon, the "narcoleptic Jewish drag queen" who was crowned the champion of "RuPaul's Drag Race" season 5. But he's also an accomplished actor, dancer, and chanteuse with an Off-Broadway hit under his garter. In 2013 he and musician Richard Andriessen a.k.a. Major Scales brought "The Vaudevillians" to a sold-out run at the Laurie Beechman Theatre; the cabaret-style show featured pop songs with a jazz-era twist, side-splitting improvisation, and time travel.
In anticipation of their sequel, The Vaudevillians: Bringing Up Baby," running May 21–June 5, Hoffer sits down with Backstage to chat about developing scripts with audiences, advice for theater actors, and how Seattle served as a training ground for him to discover his very particular brand of drag artistry.
On how the original "Vaudevillians" came about.
The characters of Dr. Dan and Kitty Witless were originally conceived when Andriessen and Hoffer were joking around after rehearsals for a production of "Our Town." "After a while we developed these old characters—the world's oldest people still alive today," Hoffer remembers. "And then we decided they'd have a lot more flexibility if they weren't old but they were still from that era so we decided to make them frozen alive." This allowed the two performers to show off their musical chops by filtering modern-day pop hits through a campy, old-timey lens; Dr. Dan and Kitty, newly unfrozen, claim their entire music catalogue was purloined by 21st-century pop artists.
The two actors became fascinated with looking at bygone eras through modern eyes and vice versa, and began to notice many of the issues facing Americans in the 1920s aren't so different from today's mess. "The Vaudevillians" became as subversive as it was silly. "By making fun of the past, I want to express the way I feel about the future," says Hoffer. Part two, as its title indicates, finds the couple "in a family way."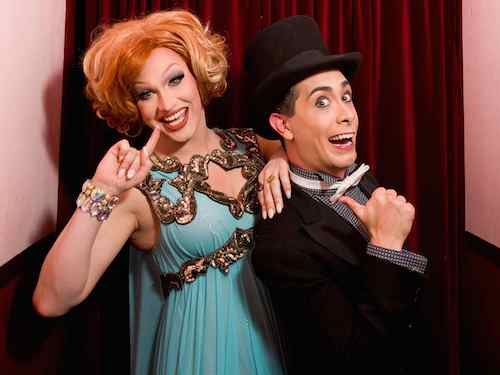 Jinkx Monsoon and Major Scales. Photo by Hunter Canning.
On developing a sequel show.
"What we're really excited about is that the show is not as polished as the last," he says. "Our first show started out very, very improv-based, the more we did it the more we started developing a script." By the time they arrived at the Laurie Beechman, he says, they'd been performing it for three years. "In this show we've left a lot of room for improv."
That improvisation is crucial to Hoffer and Andriessen's process; audiences have as much to do with the development of a story as their script writing. "We write a skeleton, then improvise in rehearsal to improve the script and flesh it out, but it doesn't start getting its legs until we have an audience there," he says. "I can come up with the idea of a good joke but it's not until I have an audience in front of me that I know how to deliver it.... The fourth wall is there and isn't there. We're playing characters but they're very interactive with the audience. It's improv and it's scripted and it's clown work all at the same time."
Both artists also realized that clowning aspect came from their college days, when they studied commedia dell'arte. "We never meant to make them like the clowns in school but after a while we realized they're really just higher functioning versions of those clowns."
On Kitty Witless.
"I would describe her as a self-involved, boozy whore," says Hoffer of the inane yet fabulous character he's created. "And that's kind of who she is on the surface. What I really like about her is you can never tell if she's a complete idiot or an evil genius; she bounces back and forth."
On Seattle's arts scene.
Because Hoffer got his start in The Emerald City's underground theater world, and created Jinkx in monthly drag performances and solo festivals, he recommends the city to young artists looking to explore their own style of creativity. "I think there's something for anyone who wants to be a performer in Seattle," he says. In addition to the wilder, more experimental theaters and comedy clubs, actors can hone their training in bigger institutions. "There's a lot of different things going on theater-wise and lots of different ways to get involved, whether it's the traditional route of musicals at 5th Avenue [Theatre] or a more self-guided route, writing your own work and auditioning for the art houses.
"That openness to experimentation in Seattle is how I learned a drag queen doesn't have to just be in her pageant gear and lip syncing to top 40. Drag can be off-the-wall, ridiculous, profound. I learned drag can really be anything.... The best advice is just to really go there and try everything. You don't know that you're not a solo artist or standup comedian or drag cabaret artist until you try it. In Seattle you can."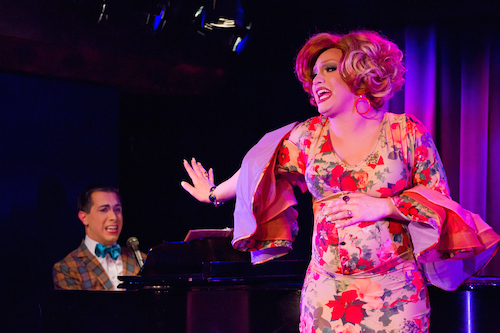 Major Scales and Jinkx Monsoon in "The Vaudevillians: Bringing Up Baby." Photo by Hunter Canning.
On advice for early-career performers.
"My number one word of advice always is tenacity," says Hoffer, before adding that steady training is an often overlooked aspect to a young artist's career. "A lot of young actors need to realize it's not just the passion, it's also focusing your passion," he explains. "You have to focus in on what you want to do and work your ass off for it, and not be afraid to fail before you get your big break.... Even if it's not formal training, you have to put in the work. A lot of kids think if you have natural talent, you're set. But there's a lot to be learned from the etiquette of communicating with fellow performers, which is an important tool."
On what fans can expect next.
Hoffer has been working hard on a documentary titled "Drag Becomes Him" which will begin screening at select festivals. "We hope to be able to tour it," he says. "I also have a remix album of songs from my first album coming out this summer: 'Jinkx Reanimated.' And I'm working on a second album in the fall." All this on top of launching a highly anticipated new show?
"I always say better busy than dead."
Inspired by this post? Check out our theater audition listings!