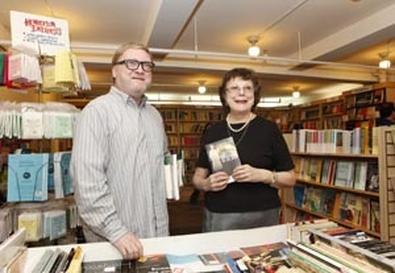 "I can't imagine working in theater without the Drama Book Shop," says Laura Braza, artistic director of the Attic Theater Company. "I don't know where I would get all the information and plays that I get here. I come in at least once a week. I spend more money on plays than I do on food."
Braza's friend and Attic Theater resident actor Monica Hammond also regularly visits the shop. "We're trying to find our next show," she says. "This is where we browse around and do all the research on plays. This is the place to find them." Frequent patrons like Braza and Hammond make it obvious why New York's Drama Book Shop has stayed in business for 94 years.
On June 11, the store will receive a Tony Honor for Excellence in the Theatre. Given since 1990, these awards are bestowed on individuals, organizations, and institutions that have demonstrated profound achievement in theater but are ineligible in any of the established Tony categories.
Founded in 1917 by the Drama League, the Drama Book Shop became an independent store in 1923. It has moved several times, but since 2001 it has been located in a 5,000-square-foot space on West 40th Street in Manhattan. The basement houses a 60-seat black-box theater, and a staff of about 20, many of whom are actors or have theater-related interests, assists the thousands of students, theater professionals, and award-winning artists who pass through the shop's doors.
"At first I didn't think it was real. I thought it was a joke or something," says store co-owner Allen Hubby of his reaction to word of the Tony honor. "I'm really surprised to hear how much it means to people. It's flabbergasting and flattering. We're thrilled."
Over the decades, the Drama Book Shop has given its staff many unique experiences. Hubby remembers his first visit: "I came to New York the summer of 1979. I showed up to the shop and it was on fire. The Fire Department, fortunately, was across the street putting out a fire in what was then the Americana Hotel." Afterward, "the shop needed a little bit of help cleaning up, doing inventory. Luckily, it was just the offices that caught on fire, not the shop itself. We've had fires, floods, and disasters in the 30 years since then."
"I stumbled through the door in 1969, literally—I was injured," recalls Rozanne Seelen, co-owner with Hubby and his aunt. The Texas native was a dancer in New York and came to the shop looking for employment. "I had a friend who was working here. She said Arthur [Seelen] needed an assistant, so I applied and I got it. I fell in love with him and ultimately married him. I was going to stay six or eight months, and that was 42 years ago."
Saved for the Community
But there was a time when Seelen considered closing the shop. "Arthur died in 2000," she says, "and I was ready to throw in the towel completely, but Allen said, 'It's not about you and it's not about Arthur; it's about the theater community, so you really should keep it going.' Now I hope to live to see its hundredth year."
After Seelen's husband died, she asked Hubby to become co-owner. He accepted and later designed the shop's layout at its current address. Hubby hoped to change the store's role in the community at the new location. "For 80 years, we had been this incredible resource to the theater community," he explains. "I thought, 'We've got more room and the theater downstairs; instead of just being a resource to the community, let's try to be a member of the community.' "
To facilitate that goal, the black-box theater—named for Arthur Seelen—was added. Says Hubby, "The creators of 'In the Heights' "—the Tony-winning 2008 musical—"started it somewhere else and then developed it here, mostly in the basement theater, for a couple years. That's very different than us just selling vocal selections to them." The shop also uses the theater for seminars and guest speakers.
Given its long life and its part in the publishing industry, change is a constant for the shop and its employees. "When I first started here, I had a manual typewriter," recalls Seelen. "Now I'm surrounded by computer screens and electronic inventory systems. We're going to have to find out how to sell e-books—that's our next big project. The whole publishing industry may be changing, but theater people need to have all the things in one place."
"We try to represent all the performing arts—theater, film, opera, dance, clowning—but it's primarily theater, film, and video," says Hubby. The Drama Book Shop lists some 45,000 plays in its database and stocks roughly 8,000. "We try to stock as much as anybody could ever desire."
The employees pride themselves on the store's large and varied inventory, which helps young actors who need to stand out at auditions. "The young people that come in here, they don't yet know that much about the plays, but they're taking acting classes and they want not standard material," says Seelen. "They want something with a little originality."
Despite having a website, a Facebook page, and a Twitter account, the shop isn't constantly focused on using the latest technology. Hubby explains the key to the store's longevity: "What we've learned through all these changes is that we need to continue doing what works: having a good selection of plays, having a knowledgeable staff, and being able to help our customers."
Hubby and Seelen agree that the personal touch in their customer service is essential to the success of the shop and its patrons. "If an actor needs a book that day at 2:15 for an audition, they're not going to want it the next day," says Seelen. "We really try to stay on top of that. We use Back Stage a lot to tell us what's casting, so we'll be sure to have those books ready. All the people that come in here, the young people with all their hopes and dreams, I want them all to be successful."
Though it's the Drama Book Shop receiving the Tony Honor, Seelen believes the store is not the only recipient. "It's something that belongs to the community," she says. "It's the community that's made it possible for us to win this award. The people who have worked for us, the people that come in the door—they're the ones that should be getting the award, because they've kept us going."