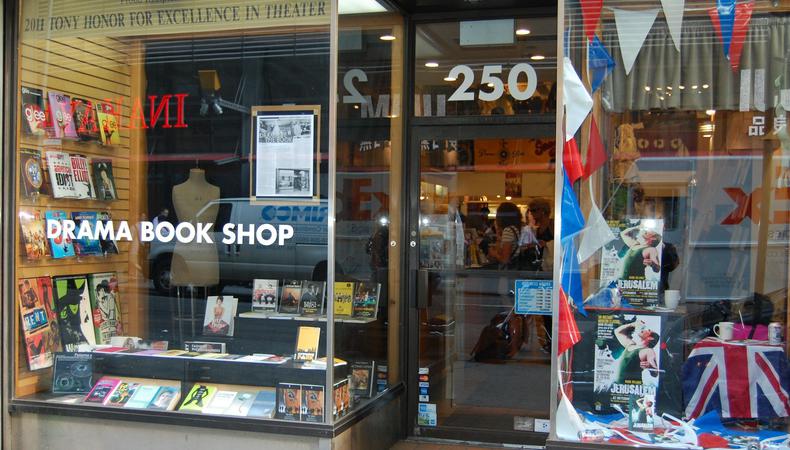 Although the famed Drama Book Shop in Midtown Manhattan will celebrate its centennial in 2016, the exact anniversary is anything but precise.
"It's a little hard to pick an actual year the store started, because it started not as a store but as a bookshelf in the offices of the Drama League of New York," Allen Hubby, the shop's vice president and co-owner, told Backstage. Sometime in either 1916 or 1917, he said, the books were separated into their own office space. Regardless of the specific timing, the shop will hold "a big campaign in October of next year, a big party, and lots of events." They're even hoping to work with city officials to designate a day of celebration called Drama Book Shop Day.
It will be a day worth celebrating, especially for the actors, writers, and other thespians who frequent the store and know how to put its resources to use. Along with its extensive collection of plays old and new, the Drama Book Shop stocks plenty of industry publications, memoirs, and literature full of up-to-date information (including Backstage, of course). Patrons could spend whole days browsing shelves and learning about the biz—and indeed, many do. The shop's crucial role in the New York theater scene was recognized in 2011 with an honor for Excellence in Theatre at the 65th annual Tony Awards.
The shop's clerks, said Hubby, are like walking libraries themselves. "We have a very low turnover, which tells me people must like working here. We have a policy where if they want to borrow any book in the store they can take it home for a month." This provides artists, particularly actors looking for a monologue, scene, or play to read, with an accessible and insightful resource.
"The staff is very good at helping actors," Hubby said. "They know plays by type, age, gender, if you're looking for comedy or even a dialect monologue." Many of the shop's customers are looking for lesser-known pieces of writing to impress in classes or audition rooms. "Acting teachers get tired of seeing the same old scenes and monologues, so they're constantly asking for ones they haven't seen. And a lot of our clerks are actors and directors and teachers."
Keeping up with newly acquired titles is a great way to stay fresh. Recent scripts already achieving popularity among shop regulars include Sarah Treem's "When We Were Young and Unafraid," Laurence O'Keefe and Kevin Murphy's musical adaptation of the film "Heathers," any of the recent plays from Tony winner Simon Stephens ("The Curious Incident of the Dog in the Night-Time"), and, of course, this year's Tony-winning new musical, "Fun Home," published by Samuel French.
The shop also holds signings and meet-and-greets with notable playwrights; the fall schedule will include such guests as Jesse Eisenberg, Halley Feiffer, and Stephen Adly Guirgis. For more information on how New York's greatest theater bookstore can make you a more informed and well-rounded artist, visit dramabookshop.com.
Inspired by this post? Check out our theater audition listings!