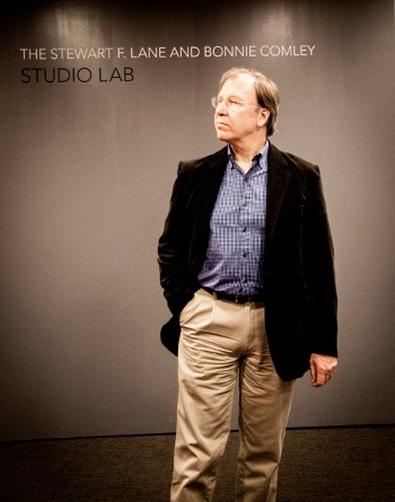 Artistic Director at the Drama League, Roger T. Danforth has had a huge hand in developing beneficial programs for directors and artists coming up in the New York theater community.
What's your goal?
I want to get people out of their comfort zone. I always say, if the phone rang and it was an artistic director saying, "I need a director to direct this play"...what kind of title would scare the shit out of you? That's probably what we ought to explore. You've never been in a room with a playwright? You should assist. All you've done is new plays? Let's look at classics. You're scared of musicals? Let's put you on a musical.... If nothing else, you're going to see how a director handles eight other opinions in the room with a music director, a choreographer…this, that, and the other. That's a huge skill to watch.
What's your role as artistic director?
My whole purpose, job, and thrust here is the Director's Project. We have an old slogan that's "building artists and audiences for the American theater." We are a membership organization. We have close to 4,000 members who belong to the Drama League, support the Drama League, and attend the theater and then all the ancillary events we have for the year.
What are projects actors can get involved in?
The big project we do with actors is DirectorFest; that's done every December—it's a full Off-Broadway production, giving the directors the experience. Each do a one-act play, 30 minutes max. They get a full design team, and each works with their own casting director. For most of them, it's probably the first time they've worked with a casting director.
What do you look for in applicants for the Director's Project?
It's not the amount of experience, it's the type of experience. I want to be sure the people we are supporting are really at the point where they are ready to take advantage of the resources we can offer them, and that we're finding people that our resources are best spent on, really giving this person something at a moment in their career. There are people that apply a number of times. Last year I had four fellows; two of them were first-time applicants, two of them were third-time applicants. They were on our radar before. We were interested in them. They kept coming back and suddenly it just all fit. They are at the moment where they're ready for the next step and it just clicked.
What advice do you have for those who want to direct?
Find young, talented directors at your level. Send them emails, send them notes, send them pictures. It's a network—you've got to build a network. I don't care who you are in this business. If you're a performer, a designer, a director, how you build your career and how you get work is all from your network. Some actors walk into an audition blindly and don't know the person and get cast, but people want to cast their friends. People want to work with people they know.... Don't flood a million résumés to people, but find people you like and whose sensibilities feel good like yours, and start making connections with them.
Like this post? Check out more of our Inside Jobs here!