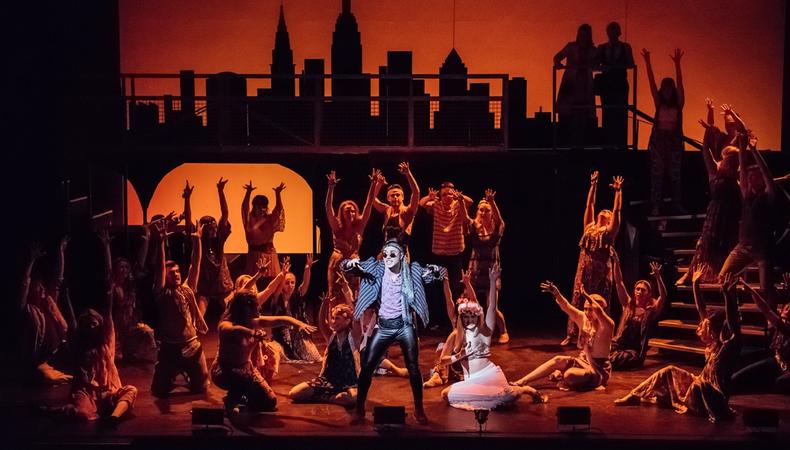 At Performance Preparation Academy, the key to success is that titular preparation. Which is exactly why Russell Hawkins' job is so crucial.
As the college manager and head agent at PPA, Hawkins works with students to make sure that in addition to the stellar training they receive, they're also ready for life as professional actors. Because if your CV isn't up to snuff and you don't have a clue how to talk to a potential agent, it won't matter how many lead roles you've scored. It's that transition from student to professional that PPA excels at: teaching students not only how to hone and perfect their performance skills, but also producing well-rounded individuals who the industry wants to work with.
Hawkins—who has professional experience as an actor, director, and casting director, so he knows what he's talking about—chatted with Backstage about the work he does, his advice for teens thinking about pursuing a degree in acting, and the one audition song he never gets sick of hearing.
Tell us a little about what you do.
I am college manager and agent at Performance Preparation Academy (PPA) based in Guilford, Surrey. My role involves heading the in-house agency 'PPA Agency Ltd', as well as acting as an industry liaison officer. I work closely with the students—particularly in their third year of training—providing students with the knowledge and skills needed to succeed in a competitive industry. These include areas such as CV presentation, how to prepare for an audition, understanding your casting type and choosing/working with an agent. My role is a linchpin between the college and the industry: inviting them to our various final year performances and showcases, arranging masterclasses and making them aware of our students and their abilities.
READ: Why London Is an Emerging Theatre Company's Dream
What are some of the main tenets of PPA?
PPA is a family-run college with a strong emphasis on pastoral care. We believe that theatre training should be a challenging, inspiring, life-affirming, and ultimately life-changing experience. We're committed to creating a nurturing and supportive environment in which every single student is valued as an individual. We offer a range of courses from a one-year foundation course in preparation for drama school training, through to full-time degrees in acting for stage and screen and musical theatre, which are validated by De Montfort University.
PPA focuses on employability and preparing their students to meet "the needs of the profession". What does this mean in terms of curriculum? How do you stay up to date with the "needs" in a way that still ensures students are getting a well-rounded education?
A focus is made on employability and the current needs and trends in the industry. This subsequently means we are offering fully-rounded, relevant training driven by the changing industry. An example would be [that] all our three-year musical theatre students have musicianship classes, allowing them to develop the skills required by an actor-musician. All our teaching staff are also actively working within the industry, ensuring what is being delivered is up-to-date and current. We offer a fully-rounded training, with an equal emphasis made on singing, dance and acting—creating a well-educated and prepared performer. Students also have opportunities to take part in external professional productions such as pantomimes at Christmas, allowing them to put into practice what they have been taught.
What advice would you give a teen deciding whether to pursue an acting degree?
Becoming an actor is a tempting dream for many a [young] student. The big decision before signing up for full-time training is whether you want acting as a hobby or a job. It can be the funnest job in the world. But it's a profession and isn't all glamorous. If you want to make it your job for life, you need to research your options fully before making a rash decision. Put daydreams to the side and create a step-by-step realistic vision to achieve your goal.
Any drama school audition advice for applicants?
Do your homework and look into all the schools that you think would best suit your personality. Reach out to ex-students, attend open days and remember to take fees into account as they vary a lot.
Are there any monologues/songs prospective students should absolutely stay away from at their auditions?
Play to your strengths, age, and casting bracket. You need to perform pieces that you feel connected to and which make you feel something for the character. Make sure you have read the play it comes from too, as the panel are may ask you questions!
READ: 1 Award-Winning Filmmaker's Acting Advice for Succeeding in the U.K.
What's one audition song you never get tired of seeing?
Personally, I love a stronge story-song with a good through-line narrative and range of emotions. You also want something that shows your range. Something like Meadowlark from 'The Baker's Wife' ticks all the boxes for me!
What can a student expect at his/her first year in a drama school?
The first year of training is very intense in both practical and theoretical work. We concentrate an even third on all disciplines: acting, singing, dance. A typical day would consist of dance in the morning and acting and singing in the afternoon. Students do an average of seven hours per day. All students also have tutorials throughout the week for singing and voice too.
What drew you to the performing arts?
I grew up watching MGM musicals from an early age. I was heavily influenced by my grandmother who used to take me to the theatre and I also went to drama classes from the age of three at our local theatre in Epsom. I was hooked! I have subsequently enjoyed a varied career in the profession, working as an actor, casting director, and agent.
What should recent graduates know about getting work as a new actor?
As a new graduate, I believe you should initially be open to any opportunities and to keep your options open. It is hard as a new graduate, so perseverance and realistic goals are key. Networking is an essential part of this industry and keeping your ears to the ground for potential opportunities. You need to get out there and seen, so join reputable casting sites such as Backstage to submit yourself rather than solely relying on your agent to do all the groundwork. Don't be scared to ask, too. People can only say no!
What's your best piece of industry advice?
Keep practising any special skills you have such as playing an instrument, speaking a foreign language or acrobatics—these are all your unique additional selling tools to make you more employable and stand out from the crowd.
Check out Backstage's London audition listings!