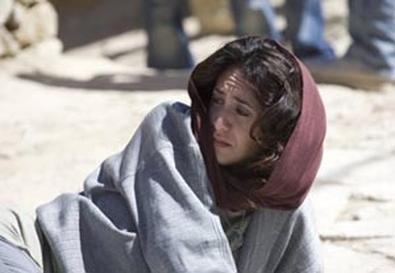 The intense
The Stoning of Soraya M
., now in theaters, recently won the Audience Award for best narrative feature at the Los Angeles Film Festival and is based on a true story. In it, Mozhan Marnò plays the title character, a victim of the centuries-old Iranian tradition of stoning. The plot focuses on the strong-willed Zahra (Academy Award nominee Shohreh Aghdashloo) as she attempts to save her niece Soraya (Marnò) from a plot by Soraya's husband to have her killed. Though the story is told through flashbacks by Zahra to a reporter (Jim Caviezel), Marnò's riveting performance provides the film with its emotional core. Prior to this breakthrough role, she was probably best known for the one-woman play
9 Parts of Desire
, which she performed at Berkeley Repertory Theatre and at the Geffen Playhouse in Los Angeles. She also had roles on such TV series as
The Unit
and
K-Ville
.
Recently, Marnò spoke with Back Stage about her journey into Hollywood and why she thought it would be impossible to land this difficult role. "I didn't think I had a shot at the role," she admits.
Back Stage
: How did you get started in the business?
Mozhan Marnò
: I think I pretty much wanted to be an actor since the age of 15. I went to normal college and got a liberal arts degree. After that, I applied to Yale Film School for my master's. I moved straight to L.A. and got an agent and manager from our showcase at Yale.
Back Stage
: Was it difficult finding an agent?
Marnò
: I mean, yeah, you just do your showcase and whoever calls you, you have that; you don't have a lot of choices but within who has chosen you. It wasn't hard; it was like, okay, this one or that one.
Back Stage
: What was the audition process for
The Stoning of Soraya M
. like?
Marnò
: I had to do three scenes in both English and Farsi because at that point, they hadn't decided which language the film was going to be shot in. I had to do it in English with an accent and then in Farsi. Then I had to do the bit at the end before she gets stoned. I didn't think I had a shot at the role because I thought she was too old. But Deb Aquila was casting it. She had cast me in
Traitor
before that, and so I didn't want to make a fool of myself in front of her. So I really, really worked hard on that audition—like, days and days and days on it, more than I normally would have on an audition, because there was the language stuff and then there was Deb on top of that. My main goal was not to make a fool of myself in front of Deb; it was not to get the part, because I just didn't think I had a chance.
Back Stage
: What made you think you could not get the part?
Marnò
: Because she was too old. She was written as 35; she had to have four kids, one was a teenager, and I was like, "No way." I was 27. But I got it! They made the kids younger, and I got it.
Back Stage
: It's a very intense role. How did you prepare for it?
Marnò
: Yeah, it was. I did a lot of work on it. I worked with a coach too. In film, you have to show up ready and there's no rehearsal, so I really needed to have rehearsal [before shooting]. I did a lot of research and read a lot about the time period and what life in villages was like, the differences with the cities, post-revolution. I watched some documentaries, and then I kind of just did the character.
Back Stage
: Were you familiar with the practice of stoning or did you have to research?
Marnò
: No more than your average New York Times reader. I didn't think it was necessary [to research] because my character wouldn't know that. Actually, a lot of people ask me that and are surprised, like, "Why didn't you watch a stoning?" And I was like, "No, who would?" If I was the person perpetrating it, then I would watch it, or the person indicting me or someone who may have seen this before, but she didn't. In fact, it was better that I didn't know so I didn't think about it. I knew what was going to happen and how they were going to go and how they were going to stage it, but it helped with the element of shock and pain [to not know more].
Back Stage
: Do you like watching your own films to, say, learn from them or think maybe you could have done something differently?
Marnò
: I'm pretty neurotic when it comes to that specific thing. The first time I watch it, I'm having a heart attack; I'm like, "Everything is horrible! How did they let me? Who said I could be an actress?" Then I calm down, and invariably, if there's an opening or something and I have to watch the movie again, it hurts; I'm wincing, but it's not as bad. [Laughs.] Then, the third or fourth time—if there is a third or fourth time, which generally there is since there have been so many screenings—then I can watch it a little more objectively. I saw myself in looping for this and practically had a breakdown. A friend of mine called me on my way to the looping and was like, "Okay, call me after because I know you're going to have to be talked off the ledge after a while." Because he knows me.
Back Stage
: After you saw the finished product, were you happy with it?
Marnò
: No, no, I still had my first heart attack. Now I'm fine, but now I've watched it, like, three times, so by the third time I'm like, "That's a pretty good scene, Mozhan; not bad, way to go." Now I can recognize some moments and things that other people have been telling me about, because before I was like, "I can't believe it!" [Laughing.]
Back Stage
: Is there anyone you look up to or any influences that you may have to prepare for a role or film?
Marnò
: Not for preparing for a role, but people who I am fascinated by or impressed with, yeah. I worked with Guy Pearce, who's pretty incredible; he's kind of a transformational type of actor, so I really admire that. Philip Seymour Hoffman. Emma Thompson has these ridiculous moments onscreen where I'm just like, "How does she do it?" For every movie, for every role, you look to certain things, other performances, and I rent movies that are relevant. But I don't look to a specific actor to be like, " Now, for every role, I'm going to look to this person as research."
Back Stage
: You started out in TV. Do you prefer TV to film or the other way around?
Marnò
: No, I prefer film. TV works so fast. I personally think the quality suffers because everybody is writing so fast or directing so fast and acting fast that it's like, turnover, turnover, turnover. With film, people learn up for months and months, and writing for months and months, and don't have to turn it in by the next week. I mean, of course it's not a rule.
Back Stage
: Do you have any advice for actor to help them get their foot in the door?
Marnò
: I think it completely depends on the person, and that's what I've sort of noticed when I'm working. I look to other people and talk to them about their trajectories and how they got started and this and that. It kind of just helps to hear, to keep your confidence and motivation up, because sometimes it gets very difficult to sustain when you're not working or even when you're not auditioning. You have to find the thing that sustains you.