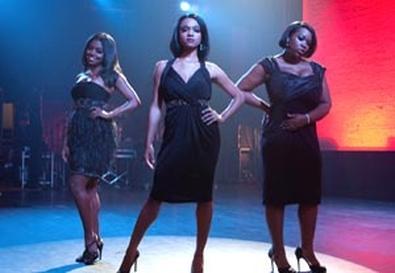 National tours are often viewed as knockoffs of Broadway originals. The limited run of "Dreamgirls" at the Apollo Theatre may be the first stop of a national tour, but this electric revival is anything but second-rate. The location alone provides an added zing, as many of the crucial moments take place at the Harlem landmark. But real estate only goes so far. Director-choreographer Robert Longbottom has rebounded from his misfired staging of "Bye Bye Birdie" for Roundabout with a dazzling and energetic production. In no way beholden to the 1981 premiere edition by Michael Bennett or Bill Condon's 2006 Oscar-winning film version, this "Dreamgirls" is fresh, alive, and bursting with talent.

Longbottom employs set designer Robin Wagner's huge mobile panels to fluidly tell the "Behind the Music"–like story of the fictional Dreams, a girl group not unlike the Supremes. Thanks to the "media design"—there's a new program credit—of Howard Werner/Lightswitch, video images projected on those panels can make the stage become Chicago, Miami, Paris, an airplane, a TV studio, or anywhere in the world. Ken Billington's lighting adds dimension to create the many locales.

Fortunately, the impressive technology does not overwhelm the powerhouse cast, who skillfully deliver the memorable R&B score of composer Henry Krieger and lyricist Tom Eyen. In the diva role of Effie White, Moya Angela more than holds her own against the memories of the two Jennifers—Tony winner Holliday and Oscar winner Hudson—who are most closely associated with the part. Angela does not just rely on her giant voice to convey Effie's turmoil. She pours her anger, passion, and hunger into every note and spoken line of dialogue. As the Diana Ross–like Deena Jones, Syesha Mercado, an "American Idol" finalist, displays her acting chops along with her vocal skills.

Chester Gregory nearly steals the show as Jimmy "Thunder" Early. Evoking both James Brown and Little Richard, Gregory is totally convincing as the egoistical soul star who will not sacrifice his raw personal style for crossover appeal. When he steps center stage to put across Jimmy's numbers, Gregory takes command of the spotlight, and that's correct for those moments. Adrienne Warren injects Lorrell, the third member of the original Dreams, with an iron determination and believably charts her journey from naive youngster to mature woman. Chaz Lamar Shepherd strongly conveys the scheming of Curtis, the group's ruthless manager, but he fails to project Curtis' magnetic charisma. As a result, he's no more than a hissable villain, and it doesn't make sense that both Deena and Effie would fall in love with him. This is the one weakness in an otherwise solid ensemble.

William Ivey Long's costumes deserve special mention. They not only re-create the extravagant fashions of the 1960s and '70s but also perform some impressive special effects of their own. The numerous lightning-quick changes earn applause and are just one of the many outstanding elements in this dream of a "Dreamgirls."

Presented by John Breglio, Vienna Waits Productions, in association with Chunsoo Shin, Jake Productions, and Broadway Across America/TBS at the Apollo Theatre, 253 W. 125th St., NYC. Nov. 22–Dec. 12. Tue.–Sat., 8 p.m.; Wed. and Sat., 2 p.m.; Sun., 3 p.m. (No performance Thu., Nov. 26; additional performance Fri., Nov. 27, 2 p.m.) (212) 307-4100, (800) 982-2787, or www.ticketmaster.com. Casting by Jay Binder/Mark Brandon.