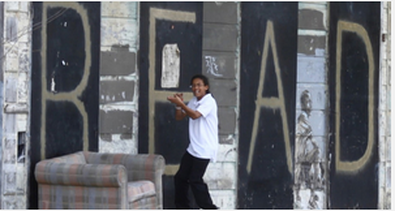 It's not often someone's able to cast their movie off of Craigslist with the results landing them at the 2014 Tribeca Film Festival, but such was the case for director Garrett Bradley and her film "Below Dreams."
A fractured narrative focused on three different people against the backdrop of New Orleans and New York, this budding director's feature film debut is a beautifully tragic look at three youths struggling to make it in an a dire economic climate.
"It was a mixture of me just posting very general ads, like, 'Are you a single mother? Are you living in New Orleans and you've had experience with the parole system and have gold teeth? Are you a listless college-educated kid who doesn't know what they're doing with themselves?' " explains Bradley about how she found her actors. "It's a combination of that, and then putting up flyers near women's clinics and across from federal buildings and college campuses."
Inspired by Bradley's Greyhound bus trips down to New Orleans, "Below Dreams" follows Leanne, a single mother of four who fights to keep her dream of being a model-actress alive while simultaneously clashing with her mother; Jamaine, a convicted felon living in New Orleans, who goes door to door seeking legitimate employment, a search that will force him to evaluate himself in order to start fresh; and Elliott, a young kid from New York who goes to New Orleans before being forced to return to New York City after his search for a young woman he met proves frugal.
The actors share names with their characters, a deliberate choice made by Bradley to bring an additional element of realness to a narrative very deeply grounded by reality.
"I had tried to go to a traditional casting director, but they really weren't interested at all, so it was like a do-or-die situation," explains Bradley to Backstage. "I thought, I'm just going to go to Craigslist and work with this process of finding someone who has a foundation that's similar to their lives, and spending six months creating the script and a narrative around them.
"Leanne wasn't necessarily an aspiring actress or model; Jamaine was necessarily looking for a job and trying to get his teeth removed, but it was part of the issues they knew about that then we could emphasize and create a story around."
While Elliott, played by Elliott Ehlers, was the only trained actor on set, Bradley made sure all of her actors knew exactly where they were going with who they were playing. She spent six months rehearsing with them, "spending time together, having conversations and therapy sessions, really; asking, 'What's the kernel of what we're talking about? What's the kernel of what we want?' "
Don't forget to check out our Tribeca Film Festival coverage, coming to you all week!