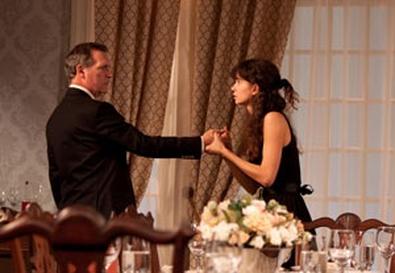 You know you're not at an ordinary dinner party when two of the guests have crazy sex on the serving table, the maid hauls in the carcasses of dead geese, and the sky takes on unnatural colors. You also might suspect the heavy hand of a playwright indulging in not-so-subtle symbolism along with the odd behavior and weird weather. Fortunately, Adam Rapp manages to balance the overt theatrics with more-believable dramaturgy in his dark and wild new comedy, "Dreams of Flying Dreams of Falling," presented by Atlantic Theater Company at Classic Stage Company while Atlantic's permanent home is undergoing renovations. Rapp, who has heretofore concentrated on personal, realistic fare in plays like "Blackbird" and "The Hallway Trilogy," ventures into absurdist territory here, in the vein of Ionesco, Albee, and Durang. He's also taking on larger social issues, creating a sharp and cynical view of an America devouring itself and destroying the natural world.

Andrew Boyce and Takeshi Kata's elegant set is realistic enough: the well-appointed Connecticut dining room of Dr. Bertram and Sandra Cabot, who are hosting a get-together to celebrate the homecoming of James, the son of their best friends, Dirk and Celeste Von Stofenberg. But disturbing cracks slowly begin to show in the tasteful milieu. It's gradually revealed that James is returning from a mental hospital after a suicide attempt. In addition, the voracious Sandra is desperately unhappy with the kindhearted Bertram and barely conceals her attraction for the athletic Dirk, a financial adviser just surviving a disastrous Madoff-like scandal. Meanwhile, Celeste is working on a children's book about a boy trapped in a volcano, a metaphor for her son's situation. The agoraphobic Cabot daughter, Cora, is also using creativity to deal with her troubles, asking everyone for a sample of their arm hair for a mysterious art project. The African-American maid Wilma puts up with Sandra's condescending attempts to teach her French and Shakespearean sonnets. And what is Sandra concealing in the basement? And why does everyone have similar disturbing dreams, such as those referenced in the title?

Rapp could have taken the easy way out and portrayed these characters as political caricatures: Sandra as a materialistic conservative, Bertram as a namby-pamby liberal, Dirk as a ruthless capitalist, Wilma as a minority victim of oppression, and Cora and James as the damaged offspring of a failing system. Those elements are present, but the author wisely mixes them with shades of gray, resulting in a gallery of complex, relatable people dealing with a crazy world as best they can. Atlantic artistic director Neil Pepe's staging is also a perfect blend of riotous farce and insightful character observation.

The estimable cast plays the bizarre situations with deadly seriousness, making them that much funnier and believable despite their outlandishness. Christine Lahti hurls Sandra's razor-sharp barbs like an expert knife-thrower, while Reed Birney's warm-hearted Bertram nimbly dodges them with a smile. Cotter Smith endows Dirk with palpable empathy, despite his yearning for ill-gotten wealth and his best friend's wife. As Wilma, Quincy Tyler Bernstine grabs laughs with the slightest change of inflection or raising of an eyebrow. Betsy Aidem delivers pages of subtext in the relatively small role of Celeste. Shane McRae and Katherine Waterston have the most difficult assignments in lending verisimilitude to the loony-tunes youngsters James and Cora. They succeed with dexterity, even making the characters' dining-room sex scene believable. This sequence, which also involves a screamingly funny attempt by Wilma to clean up the mess, is one of the high points of this shockingly hilarious and stirringly moving play.

Presented by Atlantic Theater Company at Classic Stage Company, 136 E. 13th St., NYC. Oct. 3–30. Tue.–Sat., 8 p.m.; Sat., 2 p.m.; Sun., 3 and 7 p.m. (212) 279-4200 or www.ticketcentral.com. Casting by Telsey + Company.