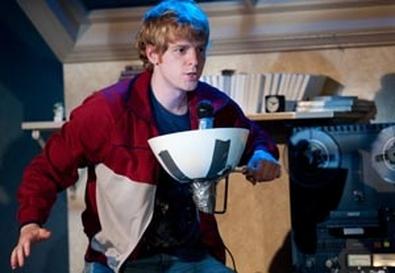 Memories are a difficult thing to put on the stage. They confuse time and place, and then, just as you begin to get a grip on them, they disappear. But Christopher Wall's powerful new play "Dreams of the Washer King" is a beautifully crafted exploration of time and memory that will be haunting you for quite some time.
Ryan (Ben Hollandsworth), an Isaac Asimov fan, spends his days imagining other worlds than the one suffocating him. His father moved the family to the country to escape their unspecified problems, only to be killed by a tree he himself felled. Ryan's mother, Claire (Carla Harting), uses bitter humor to mask her loneliness. Both mother and son seek signs of the father's spirit around them, Ryan constantly attempting to record them on tape.
When a stranger named Wade (Stevie Ray Dallimore) moves in down the road, Ryan befriends his daughter, the mousy and tomboyish Elsie (Reyna de Courcy). Elsie is also attempting to escape her world, writing countless letters to faraway pen pals, all in terrible situations, although no worse than the one in which she is mired.
Wall's title alludes to the rumor behind the town's oldest resident: a man who, after letting his dream of becoming a master washing-machine repairman fall by the wayside, is surrounded by the broken appliances, reminders of his alternate existence. This passivity—of having plans but not following through, not wanting to get involved or take risks—is the paralyzing norm against which all four of Wall's characters begin to struggle.
The title, by highlighting dreams, also hints at the fantastical, even supernatural, element that runs throughout the play. Each character is haunted by the past, signs of which begin to appear the more we look: in the act of baking, in a particular color, in a simple sound. Wall is a master of time, manipulating the nonlinear narrative miraculously in ways that focus the action instead of distract from it.
Between the thematic and temporal complexities, there is much to explore, and director Giovanna Sardelli and her cast allow us to experience the richness of it all. Harting's loopiness is both funny and poignant, and Hollandsworth is a worthy hero. Dallimore is alternately charmingly bumbling and believably aggressive, although by the end even a biblical battle between Wade's two personalities is an underwhelming attempt to make the character sympathetic. Of the cast, de Courcy makes the jump between past and future selves most evident, but her attempts seem jarring when compared to the nuances of the rest.
David Newell's deceptively simple set cleverly conveys both indoors and out, with contradictory elements (an oven and a patch of grass, for example) placed side by side in a layout that is unusually clear and evocative.
In one of Ryan's earliest recordings, his mother tells him that keeping memories on file will help them remember "who we are." But in "Dreams of the Washer King," Wall shows that memories also continually haunt us. We lose ourselves in them and are captivated by them just as easily as Wall's new play captivates us.
Presented by the Playwrights Realm at the Cherry Lane Studio Theatre, 38 Commerce St., NYC. June 10–26. Tue.–Fri., 7 p.m.; Sat., 3 and 7 p.m. (No performance Wed., June 16.)
(212) 239-6200, (800) 432-7250, or
www.telecharge.com
. Casting by Paul Davis, Calleri Casting.