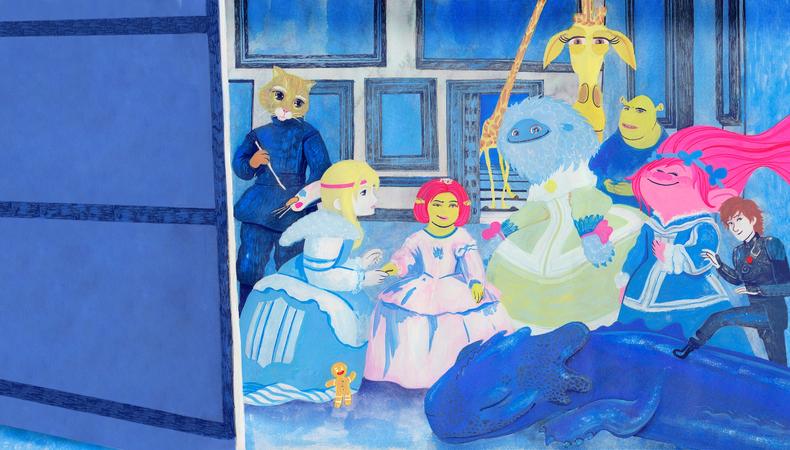 Over the course of its decorated trilogy, audiences have fallen for the "How to Train Your Dragon" franchise's lovable characters and the voices behind them. DreamWorks casting executive Christi Soper has been there for years, finding the right talent to voice the original film and adding to the cast list for the two sequels. Soper has been at DreamWorks "since the beginning," as she says, helping populate the "Shrek" series and films like "Trolls" and "Megamind" with some of the most recognizable voice performances today. Her process for finding those actors and how the cast of an Oscar hopeful comes together may surprise you.
READ: Everything You Need to Know About Becoming a Voice Actor
What was the casting process for "How to Train Your Dragon: The Hidden World"?
You either read a script or they pitch you. Sometimes it's just pitching out a character and thinking, Who would be interesting for this? Who's got an interesting voice? Hopefully, we can find something they've done before that really embodies the character. You get ideas, discuss, and then pull audio on all these people. Then everyone sits in a room and closes their eyes or looks at the art and asks, "Could this voice ever come out of this character? Does it work?" Sometimes you automatically think they're funny, but they don't work for this. Then we narrow it down to a few people and eventually come to the one choice we bring in to development and the head of the studio and see if they agree.
How do you know when an actor can carry a voice role?
It's listening to the tone from the live-action standpoint, and then there's a whole other level of it for animation. Some people are amazing actors, but when you shut your eyes, you can't see that. It's the tone and the warmth. Is there a melody to their voice? If you shut your eyes and listen, you don't have the visual nuance of them doing their "thing." If that's a wink in their eye or whatever it might be, we can't see that. It all has to come through your voice, and you really have to tell that story. It's the tone and modulation that really brings the animation and the character to life.
How does casting a fantasy world affect who you can consider?
We have to work with the story, but it's also our job to think about how things could be. Certainly, if it's an animal, it could be anything, right? Sometimes you're held to the story, but there are also times where that's kind of fun for us. There may be specific directions, and then it's fun to change minds or just open up a discussion. I think it's also interesting to be in-house, because I am part of the process. I can make a suggestion during development, like Maybe this character should be a singer, and we incorporate that into the cast.
Learn Some Voiceover Networking Tricks Here!
What advice do you have for an actor who wants to do voiceover work?
There are all different ways of doing it. A lot of people say, "I want to do voiceover," but voiceover is being an actor. That means you want to be an actor. That means you need to be in classes. Eventually, you can put together a reel, probably more for the commercial side. The main thing is: Practice your craft, and improv is king.
What is your role as casting executive at DreamWorks, and how is that different from what people might think of as a CD?
I think the biggest difference is that I'm around these projects from a very early stage with people who are bringing materials in and trying to get them developed. We're on it from beginning to end.
Want to Try a Voiceover Side Hustle? Know This.
What can actors expect from the audition process?
When we send work out and let people read, we pick our top choices from that. Then we bring them in and I'll read them here, and then we narrow that down. Then, maybe the director and producer will have a session and bring them in [to] the booth to read [for them]. I want to give [actors] what [information] I know about the project to help them do the best that they can, to have the best chance at getting the job. Animation is a little bit different in the way that sometimes you're putting your voice down and sending it in, and then we're listening to them all. Sometimes you're coming directly into me and we're super mellow. There are two of us. Nadia Sheen is my associate. It just depends on what the movie it is and how they want to do it and what the part is. When I'm reading people, it's fun. I want them to get the job or I wouldn't be trying them. If I don't think someone's right, I wouldn't be wasting anyone's time.
What tips you off that someone without a voiceover résumé can perform an animated role?
I think, even if it's not a comedic role, having a sense of humor [helps]. You're coming to a booth and you're playing. Someone's pitching you where you are. There's no camera in your face, there's no mark to hit. You can wear your sweats. But it is hard work. That story has to be told with your voice. You have to carry that, and it's in the breath. You're getting to build these characters with the team in the booth. Obviously, you have guidelines for what the character is, but then you get to just go in there and really create. You want it to be fun, and you want someone who wants to be there and wants to play. Then, quality of voice [should be] pretty grounded. Even if it's funny, it's not broad. I think it's like live-action casting. You make a list, and it might be a broad list, but you're going with your gut feeling of "I've either seen them do this or I feel like they could do this, from what I know about them." They're actors; it's their job to give you their take on the character.
This story originally appeared in the Jan. 16 issue of Backstage Magazine. Subscribe here.