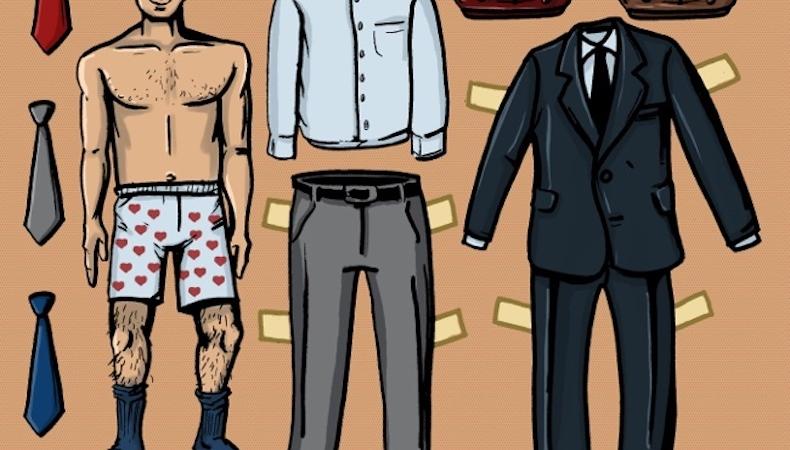 A few weeks ago, I attended an acting school's showcase being held on a Saturday afternoon. That's not the sort of thing I normally do, because my weekends are precious. Trust me. Agents need their downtime. But in this case, my girlfriend was in Maui on a modeling assignment and I was on my own, so I agreed to be there.
The showcase went well. The space was comfortable. And the actors did a nice job. But something was off about the whole thing, and that something was me. I just couldn't get into it. Everything felt wrong. The question is why? At the time, I had no idea. But then, just as the showcase was ending, it hit me: I didn't feel like an agent because I wasn't dressed like one.
You see, it was a Saturday afternoon, so I had shown up at the showcase wearing jeans, sneakers, and an old bowling shirt. It turns out that was a bad move. Without dressy duds, I just couldn't find my groove.
All the agents at my office wear a suit. That's every Monday, Tuesday, Wednesday, and Thursday. Friday is a casual day, but that doesn't mean we can dress like bums. Jeans are fine but we still have to wear collared shirts or polo tops. T-shirts are a major no-no and would be considered a freshman mistake. (I remember this one time when a young agent showed up on Friday wearing cargo shorts. That poor bastard disappeared faster than Val Kilmer's career.)
READ: "5 Fashion Don'ts for Your Next Audition"
I'm fine with this setup because, frankly, wearing a suit puts me in a stronger mindset. It might seem trivial, but dressing up brightens my mood and makes me feel more like an agent. Also, the clients dig the vibe. They want to be represented by men and women who look like they know what they're doing.
Last night, I attended a workshop with another 10 percenter who showed up looking like a badly packed suitcase. He had on dirty hiking boots, wrinkled khakis, and a stained shirt. During the Q&A, I found most of the actors directing their questions at yours truly. Were my answers better? Nope. The other agent knew his stuff too, but he also looked like someone's drunk uncle and I looked like the kind of guy who can make things happen.
Think about it: Can you imagine James Bond without his tux? Or how about Han Solo without that cool vest? Or even worse, Ari Gold without a suit?
For the record, there are five suits hanging in this guy's closet. Two of them were super expensive and tailored to my finely honed body, but the other three are off the rack; I'm talking Men's Wearhouse, people. As for my shirts, I buy them online at a discount and I pick up ties during the holiday sales at Macy's. So this isn't about money. It's about common sense. I honestly believe that if you want to be a talent agent and you want clients to trust you with their careers, you have to dress like someone who is reliable and successful. In other words, like a professional.
Would you like to know why they say clothes make the man? Because it's true!
Want something to look sharp for? Check out our film audition listings!