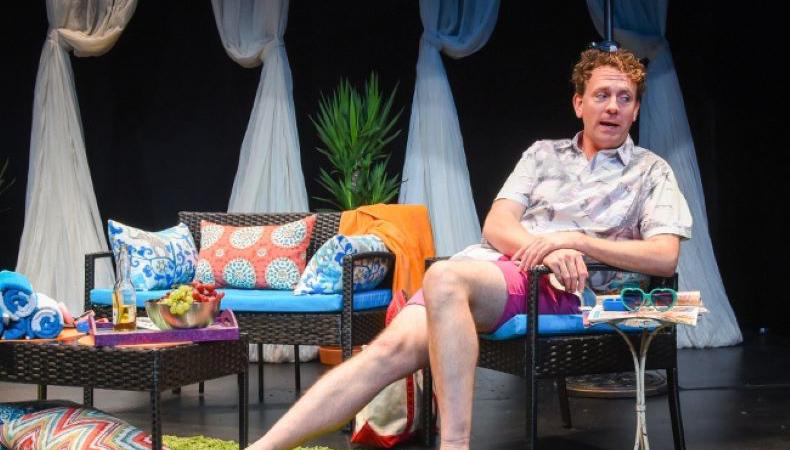 Backstage held its final Facebook Live interview of 2016 on Dec. 19 with actors Drew Droege and Michael Urie. Droege, whom many will know from his viral Chloë Sevigny parody YouTube videos, rounded out his year with an acclaimed run of his Off-Broadway solo show, "Bright Colors and Bold Patterns," at the Barrow Street Theatre in New York City. He wrote the riotous show and tapped Urie (a one-person show vet with "Buyer & Cellar") to direct.
In conversation with Backstage, Droege offered readers advice on creating your own work, internalizing a script, and finding success across various mediums.
Work to memorize your lines, then just breathe. "The joy of being the only one up there [in a solo show] is that it's just me. We will figure it out somehow. I'm not gonna throw another actor off," Droege said of memorizing 70 minutes of lines. "And sometimes, those are the most interesting moments for the audience because it feels so real and alive for them when they see that you have that moment. So my advice is always just: relax. You know it better than you think you do. I mean, work your ass off and learn it, but then when you go out there, play. And when you do go up, it can be the most beautiful moment in the whole show because you're alive in that."
READ: "2 Ways to Write a Great Solo Show"
Build your character around a comedic flaw. "For me, it's just figuring out their point of view," Droege said of building his characters. "Something that I learned at the Groundlings is: What is their comedic flaw? What is that thing that they are unaware of that the rest of us see? That's a big hook. Homer Simpson thinks he's really smart. Austin Powers thinks he's sexy. We laugh at them because they are not. When it's just a sketch character that you're trying to capture for three minutes, you think of a playable adjective. 'If I had to sum them up in one thing, what would it be?' Things build from there and the specifics layer on top of that base."
Learn how to write for yourself and embrace the internet. "I was doing sketch comedy and improv onstage and it was a lot of fun, but I had so many people in charge of things who would say to me, 'You're great, but we just don't know what to do with you.' Thank God for the internet because I don't know what I would have done otherwise," Droege said of his success in online comedy. "There's something for everyone on the internet. That's allowed me to have my space. My advice to everyone is just stick to your guns and make stuff. Shoot videos on your phone, put up a show wherever you can, and keep writing and creating. If you don't know how to write, learn how to write because that's how stuff happens.... Here's the thing—if you make something that's not great, who cares? No one's gonna see it. People don't share mediocre-to-bad material. They share what's great. So just keep making it."
To watch the full Facebook Live interview with Droege and Urie, visit facebook.com/backstage.
Want to act for the stage? Check out our theater audition listings!