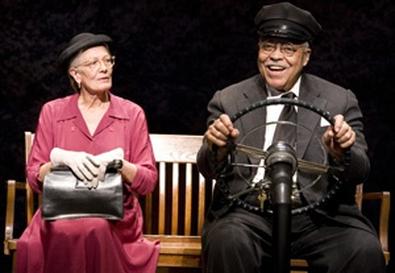 It seemed like such a good idea on paper: Vanessa Redgrave and James Earl Jones in "Driving Miss Daisy." When the excellent Boyd Gaines was announced to complete the three-person cast of Alfred Uhry's Pulitzer Prize–winning 1987 drama, the project sounded even more promising. So it's with tremendous regret and disappointment that I have to report that, under the puppy-soft direction of the usually reliable David Esbjornson, this "Daisy" never fully blooms. There are pleasures to be had, of course, and it's always instructive to watch the work of such consummate actors. Plenty of laughs are landed, but the primal power of this intimate meditation on race in America circa the civil rights era is never unleashed.
For those of you who have been living under a rock, the simple story begins in 1948 Atlanta, when 72-year-old Daisy Werthan crashes her three-week-old Packard into a neighbor's garage. Her exasperated but loving son, Boolie, hires 60-year-old Hoke Coleburn as her full-time chauffeur. Miss Daisy, as Hoke respectfully calls her, wants none of it, considering her privacy excessively invaded. But resistance is futile, and soon Hoke is ferrying her to the Piggly Wiggly on grocery runs. Uhry examines the developing relationship between the patrician Jewish widow and her plain-spoken African-American employee over the next 25 years against the backdrop of an America finally awakening to the tragedy of its appalling racial discrimination.
The central problem of Esbjornson's production is its excessive niceness. Miss Daisy considers herself enlightened on the subject of race, yet she is far from immune to racist (and classist) attitudes. Hoke understands his place in the society, and he tries to maintain it in order to put food on his plate, but a contained rage simmers just below his surface. That each ultimately becomes the most important person in the other's life is nothing short of a miracle, one that Uhry expertly dramatizes. But as played by Redgrave and Jones, the relationship feels like a foregone conclusion from the get-go. There's never enough danger to their battling and bantering. We need to believe for nearly the entire evening that either is capable of blowing things to smithereens. When Miss Daisy, in a moment of acute age-related mental distress, tells Hoke, who has sprung to her aid, that he is her "best friend," it should be something of a shock to both characters (and to us), not a sentimental affirmation of something we already know.
Redgrave and Jones, being two of our finest stage actors, inevitably rivet attention. Both are particularly good at charting the subtle vicissitudes of the aging process and find an appropriate way to show their characters' sense of place in society. But Jones' hearty bluster too often obscures Hoke's demons, while Redgrave displays a distressing aptitude for being cute. (Watch how she brandishes an empty can of salmon Miss Daisy thinks Hoke has stolen from her pantry. It's very funny, but it's not organically convincing.) Gaines gives the most successful performance, turning a character that can come across as a bit of a device into a complete and complicated man, but it's not Boolie's play.
Perhaps most telling is how Esbjornson chooses to begin things. The extraordinary original Off-Broadway production opened with the harsh sounds of Miss Daisy's offstage car crash. On Broadway, Boolie stands atop a staircase holding a packing box as John Lee Beatty's set of disconnected pieces glides together, underscored by Mark Bennett's sentimental music. Miss Daisy and Hoke appear downstage, on opposite sides, as if summoned by Boolie's memory. The stars get their applause, then all snaps into place for the first scene. But it's not a memory play.

Presented by Jed Bernstein, Adam Zotovich, Elizabeth Ireland McCann, Roger Berlind, Beth Kloiber, Albert Nocciolino, Jon B. Platt, Stylesfour Productions, Ruth Hendel/Shawn Emamjomeh, Larry Hirschhorn/Spring Sirkin, Carl Moellenberg/Wendy Federman, and Daryl Roth/Jane Bergére, in association with Michael Filerman, at the Golden Theatre, 252 W. 45th St., NYC. Oct. 25–April 9. Mon., Wed.–Sat., 8 p.m.; Tue., 7 p.m.; Wed. and Sat., 2 p.m. (212) 239-6200, (800) 432-7250, or www.telecharge.com.