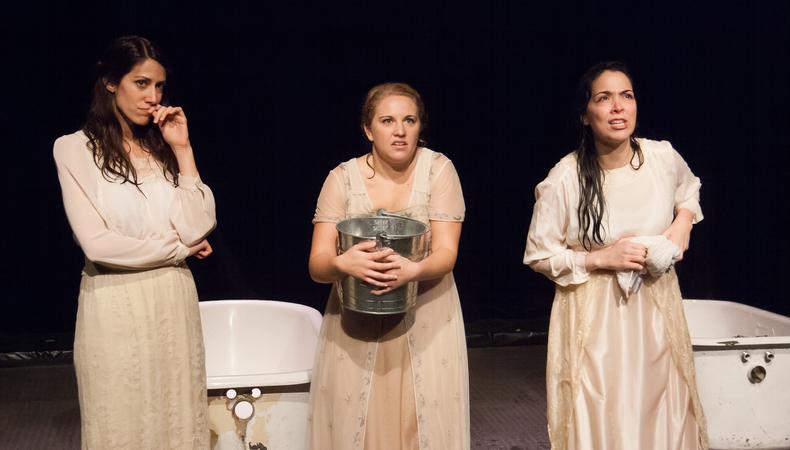 The notion of taking one's breath away dominates Strange Sun Theater's brisk production of "The Drowning Girls," both in the figurative romantic sense and the literal drowned-in-the-bathtub sense. A kind of ethereal docudrama about the Brides in the Bath Murders of the early 20th century, the airy script by Beth Graham, Daniela Vlaskalic, and Charlie Tomlinson is buoyed by cheeky humor and well served by an evocative staging from director Jessica Bashline.
Around 1912 an English con artist named George Joseph Smith was working a ghastly racket. Posing as a man of independent means, he would court the daughters of wealthy families. Before the wedding he would have the lady's will and finances put into order, leaving him the sole beneficiary in the event of her untimely death. Then—sometimes a few years after the wedding, sometimes just a single day later—he drowned his new wife in a bathtub, took the money, and ran. Smith accomplished this gruesome scam three times within three years, leading to his conviction and execution.
Audiences entering Walkerspace will be jolted immediately by Daryl Embry's profoundly simple but transporting set, on which three claw-foot bathtubs are being filled by cascading water from spigots rigged far above. Soon the three murdered brides emerge from the tubs with a shuddering gasp. Bessie, Alice, and Margaret have been exhumed in "The Drowning Girls" to speak their piece and air the evidence against Smith in what seems to be a stylish vision of the hereafter. Slinging water from their wet hair, the three women re-enact and relish their mutual experiences with Smith, whom they legitimately loved.
Bashline's light-footed actors move in and out of the three bathtubs and supporting roles, including that of Smith, as each woman reflects on her brief life. They navigate the grim material with ease, except for occasionally struggling with the cadences of the Irish characters. Death, it seems, has also given the wives a mischievous sense of humor, and they are able to appreciate the inevitability of Smith's wickedness. "It was as if I could suddenly breathe," Bessie says of her initial romance with Smith with an ironic smile, "as if all my life I had been holding my breath."
The circumstances under which each woman was lured in by Smith's machinations were unique. For Bessie, played with effortless naturalism by Kate Danson, it was a naive love at first sight that endured even when Smith abandoned her for a year. For the rebellious Alice, embodied well by the playful Marissa Porto, Smith was another means of sticking it to her stuffy parents. For Margaret, a 38-year-old far along the path to spinsterhood, Smith represented a last hope for love. The graceful Nancy Rodriguez affords Margaret a noble spirit until the very end; her sudden death is the only one represented onstage.
Water again floods into the bathtubs from above during key moments such as the last, acting as a gorgeous visual punctuation with equally uplifting and unsettling connotations.
Presented by Strange Sun Theater at Walkerspace, 46 Walker St., NYC. March 18–30. (800) 838-3006, (646) 801-7143, www.brownpapertickets.com, or www.strangesuntheater.com.
Critic's Score: A-