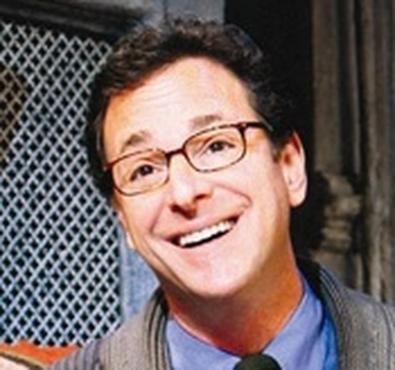 An actor's onstage behavior sometimes offers clues as to who he or she really is. And while you get such clues watching Bob Saget, currently making his Broadway debut as Man in Chair in the Tony-winning musical The Drowsy Chaperone, you also get them from his offstage behavior. After lunch, he leaves our waiter a 100 percent tip. "Because I can," Saget blurts. "The business has been good to me. It's the right thing to do." It doesn't seem like a pose.
Earlier, Saget mentioned his late father, a supermarket executive with whom he was close: "He never gave career advice, but he did say to do whatever you can to help people, to be kind. He taught me that kindness isn't just a virtue but something we do to make the world a better place. He had incredible ethics when it came to work and family. Those things — combined with a dirty sense of humor, which he had — is the gift I inherited."
Call Saget multitalented or an industry punch line, it's clear he's had an odd, varied career: eight seasons as Danny Tanner on ABC's Full House, eight seasons hosting America's Funniest Home Videos, and untold years polishing a standup act so blue Redd Foxx would blush. Post-Full House, Saget aimed to remake his image far from that of a wholesome dad — and in Paul Provenza's 2005 film The Aristocrats, Saget's 12-minute potty-mouth cameo did the trick. Today, mothers stop him in Times Square and praise his Full House work, while their adult children hoot over his act — and his filthy yet fertile comic mind.
And that's half his résumé. Also in 2005 was Saget's first New York stage credit, playing an Ivan Boesky-like dad Off-Broadway in Paul Weitz's Privilege. Often he's behind the lens directing TV movies or else spearheading projects such as the straight-to-DVD parody Farce of the Penguins. He's appeared in a music video, "Rollin' With Saget" he's made stereotype-defying cameos on Law & Order: SVU and Huff. He still narrates the CBS sitcom How I Met Your Mother and hosts the game show 1 vs. 100. Saget calls himself an anomaly and his comedy sophomoric. Then he'll mention raising funds for research into scleroderma — a disease to which his sister Gay succumbed — with a humanitarian's eloquence. In his three daughters, ages 20, 18, and 15, he radiates paternal pride.
Waking Up to 'Drowsy'
Bob Boyett, one of the producers of The Drowsy Chaperone (and, not by coincidence, an executive producer of Full House), recruited Saget to play Man in Chair. "I'm so glad he did," Saget says, "because the show affected me when I saw it." Speaking of his character, he remarks, "He's a monologuist. He talks to the audience like it's another character. He plays this album from this musical that's, like, his whole life."
Saget adds, "He's ambiguously gay. I've seen people like him before. I don't think he's ever had sex. He lives in this place where he doesn't touch. His mother was his closest relationship. His father left. He says he was married — meaning he went on some dates, so my sense is she controlled him. He laid in bed next to her; they must have had some kind of sex, but I don't know if he's ever had an orgasm." Looking rakishly over his glasses, Saget says, "Obviously it's a different role for me." Rim shot. Tip your waiter.
"When I first rehearsed," he says, "Casey Nicholaw, our director, gave me notes. He said I sat like a guy; I wasn't closing my legs. For Man in Chair, it's an etiquette thing. Physicality is how I take a part on. It took me a few weeks to figure it out, but I think Man in Chair has obsessive-compulsive disorder. I don't leave my character except when he says he has to pee, which I do." ("Do you seriously pee?" I ask. "I seriously pee," Saget says.)
In the show, Man in Chair plays the cast recording of a mythical eponymous 1920s tuner that comes alive onstage. He stands outside the action until after a buoyant number, "Toledo Surprise," when all the mythical characters beckon to him, inviting him to escape his drab flat and enter musical-comedy nirvana. It's an emotionally satisfying moment that Saget plays delightedly; for him, in that surreal melding of the real and unreal, there lies something key to his character. "Man in Chair kind of becomes psychotic," Saget says. "Once they do 'Toledo Surprise,' it's not a song on a record anymore" — Man in Chair leaves his melancholy behind. Then the power in his apartment dies; a superintendent knocks at the door. "That's the real world intruding," the actor says. "A guy with a mullet is at the door. A man with a mullet — that's real life."
Typically for a Broadway replacement, Saget's rehearsal period was short; he spent much of it locked in his hotel room running lines and blocking. "The put-in was the day I opened — the first time I worked with all the principals," he recalls. "In my first week, my monologue left the building — I went up." Fortunately, his comic skills kicked in as he ad-libbed until he could remember how the speech ended. "So now the show is over, and the cast is like, 'That was hilarious.' I said, 'Are you kidding? That was the end of the world as we know it.' "
The Time of Your Life
Asking Saget for acting advice is tricky. Sometimes he's self-doubting; sometimes he recalls early successes, such as being an opening act at Carnegie Hall at 22, "when my managers were two guys I met in Buffalo, Brad Grey and Harvey Weinstein." He quotes the Roman writer Seneca: "Luck is what happens when preparation meets opportunity." He cautions: "You've got to be of unrelenting strong mettle in this business." He teases: "I'm stupidly sensitive, neurotic, and insecure." He's Zen: "On the flip side, I'm beyond confident."
But ultimately Saget is introspective. "It's the nature of being an outsider," he says. "I moved a lot as a kid; I had no friends; I was stupid in school. I'd make movies and write creative papers to get teachers to like me, and they'd write, 'You're my student, not my entertainer.' I wanted to go to medical school, but because I was a moron I couldn't, so I went to film school. I moved to L.A. because I won a Student Oscar, and Mitzi Shore [co-founder of the Comedy Store] asked me to go on for free. I lived there nine years, hardly making money. I thought everyone got jobs before me. I was bitter at 30. My friend Dave Coulier of Full House used to say, 'If you're very quiet, you'll hear Bob complaining.' But really, I've been just stupid fortunate."
Now 51, Saget says actors need time — to fail, learn, and succeed. "One of my first auditions ever was with the lady who cast All in the Family and Sanford and Son. I was 21. I was in her office; she picked the phone up and said, 'Go ahead,' and talked on the phone. I didn't know it was unacceptable. But I've never been good auditioning. As soon as I'm in a place where I have to go, 'No, I'm good! No, I'm funny! Oh, you just saw 90 other people?,' I'm out. God help people who schedule auditions when I direct, because I spend 10 minutes too long with everyone. I feel bad, but I've been on their side of the table."
Besides, Saget likes being liked. "You know the phrase 'There's an asshole on every project; I just hope it's not me'?" he asks. Yes, I do, Bob. And it isn't you.
Bio Briefs
Born in Philadelphia, he was also raised in Virginia and California
Recently completed an HBO special, Bob Saget: That Ain't Right
To keep a commitment, he performed for an audience of 5,000 at the University of Maryland the night before his first performance in The Drowsy Chaperone
Appeared several times on The Tonight Show Starring Johnny Carson as a panelist, not a standup. When he asked the talent coordinator why, he was told, "Your act is like a stone skipping on water: It never quite digs in."
The Drowsy Chaperone closes Dec. 30 at the Marquis Theatre, 1535 Broadway, NYC. For tickets, call (212) 307-4100.