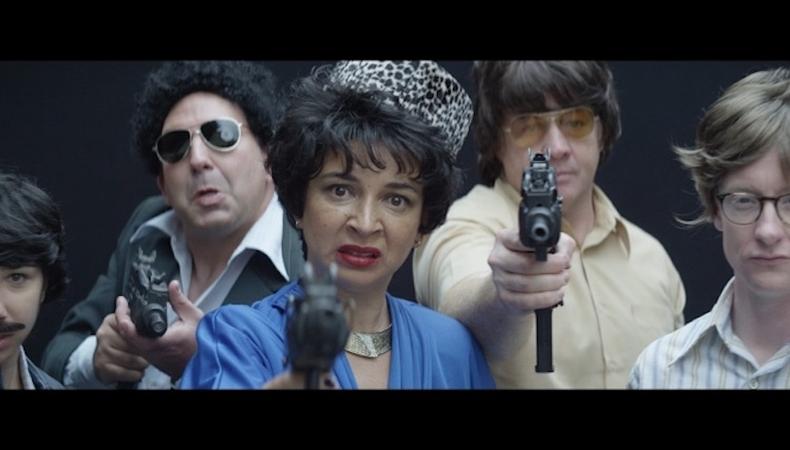 "I think I know alcohol better now," says Derek Waters. He should. As the creator of "Drunk History," Comedy Central's Emmy-nominated, booze-soaked lesson in arcana, Waters is the guy who sits with each segment's loaded narrator, keeping the conversation flowing and generally acting as a chaperone as drinks are consumed and a narrative of sorts emerges—brought to life by some of your favorite actors, flawlessly lip-synching the increasingly inebriated dialogue.
Premiering its third season Sept. 1, the series began as a cult favorite, bite-sized Web series for Funny Or Die before making the leap to a longer format. "I was mostly nervous that this is a five-minute idea and how are people not going to be annoyed with drunk people for half an hour?" Waters says of the period leading up to the Comedy Central premiere. "That's why I thought each episode would be stories that take place in a town. But it was very scary. I'm not scared anymore, but I don't know why it stopped. I guess [it happened] when people were liking it."
Episodes like "Nashville" and "Hollywood" find the origin stories of Dolly Parton's solo career and Ronald Reagan's ascent to the presidency re-created by Casey Wilson, Lindsay Sloane, and Nick Kroll, nailing every twitch and stutter recorded in the storytelling session. But as with the second season's "First Ladies," "American Music," and "Sports Heroes" episodes, this season will include themes other than location.
"We're doing a whole episode about spies, about Harriet Tubman being a spy, Roald Dahl being a spy," Waters says, adding that Octavia Spencer will play the leader of the Underground Railroad. "In the beginning, you really had to explain it, but now we send a couple of stories to people's agents and see if they respond," he says of casting the segments. "So it's really, 'Who would be the best Harriet Tubman?' 'Well, I think Octavia Spencer would be the best. I don't know how the hell we could get her, but let's try.' We just aim for the stars and see what we can get."
As for the history itself, that's up to Waters, who looks for "a story that makes me go, 'How did I not know about that?' Maybe about someone that we know a lot about, but the specific story is a part of their life that we've never heard. I really think the only criteria is, 'Man, what a great story that I don't think people know.' "
Waters offers a handful of stories to the narrators, who select whichever one makes them most excited. "Most of them are my friends or people I know or have heard of in the comedy world," he says. "Then we go to the narrator's house and film about six to eight hours. It depends on the narrator. Maybe four to six hours. Because there are so many different things that have to happen: telling the story—a nice clean beginning, middle, and end—and making sure they're drunk enough so it'll be funny and not just a history story. Every time it's a little different, but it all affects them the same exact way: No one ever thinks they did a good job the next day. They're always apologizing."
No one's apologizing for that Emmy nomination for outstanding variety sketch series. "I don't usually like my phone going off early in the morning, but it was a great way to wake up," Waters says. "All of this came of just getting drunk with a friend?"
Want a career in comedy? Learn how to refine your comic persona!