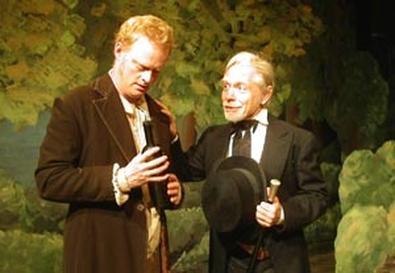 W.H. Smith's 1844 play "The Drunkard" is a seminal work in American social and theatrical history. It was the nation's most popular drama until the advent of "Uncle Tom's Cabin," and it is generally credited as having given a significant boost to the growing temperance movement, which culminated in the 1920 enactment of Prohibition. Metropolitan Playhouse, as part of its season devoted to stereotypes, is providing a rare opportunity to see this landmark work. Unfortunately, Francis X. Kuhn's naturalistic, unfocused direction fails to set the script's melodramatic heart to beating.
And what a melodrama it is. Young, goodhearted Edward Middleton is lured down the pathways of alcoholic vice by the evil Squire Cribbs, a veritable Snidely Whiplash, who hated the boy's father and so is seeking revenge. Edward marries the pure Mary Wilson, who lives with her aged mother in a rented cottage on Edward's newly inherited property, after he prevents Cribbs from engineering the women's eviction. Feigning friendship, Cribbs introduces Edward to the joys of brandy. It only takes a couple of drinks for the lad to become a raging alcoholic and make his wife's and daughter's lives a misery. The shamed Edward flees his bucolic village for New York City, where Cribbs continues to steer him on a downward spiral until Arden Rencelaw, a reformed alcoholic turned do-gooder, steps in. Rencelaw saves Edward with a snap of his fingers; then, together, they go about Cribbs' undoing.
All the techniques of melodrama—asides, ridiculous coincidences, florid language, black-and-white morality, direct audience address—abound, but the company underplays rather than embraces them. Actor after actor gets lost in the purple period verbiage, causing important plot points to slide by unnoticed. Best of the lot is Ben Gougeon, who as William Dowton, Edward's younger foster brother, at least finds a consistent stylization for this country rube with a sweet soul. Also notable is Kendall Rileigh as Agnes, William's mad sister. Rileigh seizes her two scenes—one mad and one sane—and doesn't let go.
As Edward, Michael Hardart, though admirably focused, needs an infusion of Delsarte-style acting. Howard Thoresen, who in his younger days played Edward, is miscast as the nasty squire, offering a far too mild and at times even jovial presence in a part that calls for some serious cape twirling.
Though a published preface to the script claims that playwright Smith's performance as Edward featured "the most natural, effective acting ever seen" in Boston, where the play premiered, what was considered naturalistic then is a very different kettle of fish. If "The Drunkard" is to work at all today, it needs to be much bigger and bolder while still remaining truthful.
Presented by and at Metropolitan Playhouse, 220 E. Fourth St., NYC. Sept. 24–Oct. 17. Wed.–Sat., 8 p.m.; Sun., 3 p.m. (Additional performance Sat., Oct. 16, 3 p.m.) (212) 995-5302 or www.metropolitanplayhouse.org.