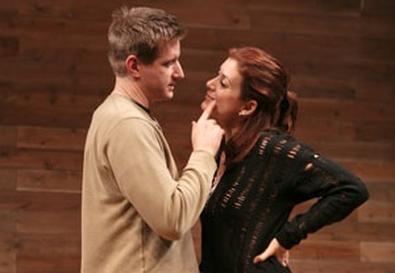 At first, it seems as if Stephen Belber's two-hander "Dusk Rings a Bell" is a conventional romantic comedy. TV star Kate Walsh of "Grey's Anatomy" and "Private Practice" addresses the audience as Molly, a harried single woman with a troubled love life and a brilliant career as a CNN executive. Her opening monologue is full of witty banter about her failed first marriage, her crush on her boss Jeff, and her fear of turning into "a cat person." But just when you think you're in for a "Sex & the City" knock-off, she encounters Ray, an old flame, in her parents' former summer house, and the play turns to the dark side. This should not surprise those familiar with Belber's work, since his earlier plays "Tape" and "Match" concern characters confronting unfortunate incidents from their past. Ray did a stretch in jail just two years after he knew Molly as a teenager and the crime for which he was sent up casts a shadow over their reunion.

Tautly directed by Sam Gold, who also brought out the deep subtext in Annie Baker's "Circle Mirror Transformation" and "The Aliens," "Dusk" casts a spell as well as rings a bell. It's a piercing, compassionate portrait of two damaged people briefly reaching out to each other. Walsh acquits herself nicely as the tightly-wound, overachieving Molly. She could easily have come across as a whiner, but Walsh never condescends or mocks Molly's anguish over her inability to maintain a meaningful relationship.

Though Molly opens the play and much of the story is told from her point of view, the proceedings and our hearts are slowly taken over by Paul Sparks as Ray. This subtle actor who has turned in numerous stunning performances in such Off-Broadway fare as "Orange Flower Water," "Blackbird," and "Coyote on a Fence," gets under the skin of a devastated man desperate to escape the stigma and guilt of his past. His halting manner and incomplete gestures are so natural he doesn't appear to be acting at all. It's extremely difficult to play a passive character. There are no fireworks here, and the actor only raises his voice a few times to convey Ray's inner turmoil. Nevertheless, Sparks creates an entire lifetime of remorse with his quiet delivery and wounded eyes.

Set designer Takeshi Kata has provided a neutral playing area suggestive of the beachside resort town where much of the action takes place. Ben Stanton's lighting and Jill BC DuBoff's sound bring it to life as does the splendid two-person cast.


Presented by Atlantic Theatre Company at Atlantic Stage 2, 330 W. 16th St., NYC. May 27–June 26. Tue.–Sat., 7:30 p.m.; Sat. and Sun., 2:30 p.m. (212) 279-4200 or www.ticketcentral.com. Casting by MelCap Casting.