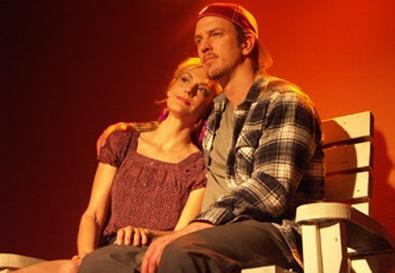 Stephen Belber's two-hander is a low-key romantic drama that initially takes its time giving us a road map of the heads and hearts of its soul-searching characters. Following some rather verbose monologues, the play comes into focus. There's sharp pathos and soaring lyricism in the playwright's reflections on the insecurities, regrets, and guilt that can forestall the culmination of love relationships. Daniel Henning's impeccable direction and the committed and nuanced performances of Thea Gill and Josh Randall further elevate the enterprise.
Molly (Gill), a middle-aged divorcée, introduces herself to the audience, recalling her victory over stuttering and self-doubt during a summer vacation 25 years prior, when she recorded her intense emotions in a letter to herself. She is about to embark on a pilgrimage to Bethany Beach, Del., where her family once enjoyed summer excursions, planning to retrieve the document that she stashed in a beach home there. By coincidence—or perhaps by fate—she runs into Ray (Josh Randall), with whom she shared a memorable liaison during that seminal summer. She has never forgotten him. Can love have a second chance? Ray is happy to see her but reveals a bombshell: He served a prison term after being accused of participating in a gay-bashing incident in which the victim died. The seemingly limitless promise of young love is juxtaposed with the emotional baggage derived from life's misfortunes and mistakes. The playwright offers an achingly poignant portrait of renewed hope coming into conflict with the dark shadows of reality.
Gill gives a moving and eloquent portrayal. The actor illuminates the adolescent fears and lack of confidence that Molly learned to surmount, the years in which her life slipped from happiness to compromise as she grew into womanhood, and her midlife yearning for a last shot at romantic bliss. Randall superbly captures the weaknesses and strengths of a man trying to repress the guilt of a long-ago unconscionable act and rebuild his self-image as a worthwhile human, deserving of love.
This multilayered drama packs a strong emotional punch. Though violence against gays isn't the primary theme here, Belber's sensitive play serves as a noteworthy counterpart to the docudrama "The Laramie Project," which he co-authored with a team of writers.
Presented by Blank Theatre Company at the 2nd Stage Theatre, 6500 Santa Monica Blvd., Hollywood. Oct. 8-Nov. 13. Thu.-Sat., 8 p.m.; Sun., 2 p.m. (323) 661-9827. www.theblank.com.