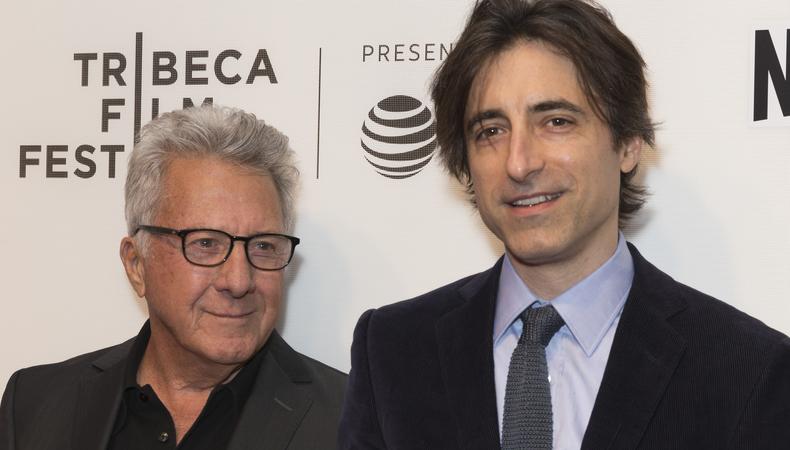 There's no better way to gain insight into the potential of an actor-director dynamic than by sitting in on a conversation between the two. Oscar winner Dustin Hoffman and Oscar-nominated writer-director Noah Baumbach ("The Squid and the Whale") gave us that opportunity as a part of the Tribeca Film Festival's director's series to discuss their approaches to their respective crafts. The two discussed working together for their newest project, the Netflix-scooped "The Meyerowitz Stories." Starring Hoffman, Emma Thompson, Ben Stiller, Adam Sandler, and Elizabeth Marvel, the film follows an estranged family reuniting in celebration of their patriarch's (Hoffman) artistry.
On sticking to the script.
"It was only the second time in 50 years that I worked with a director who wanted me to say every—single—word. And the last time I was asked to do that was 'The Graduate,' " said Hoffman. "The script supervisor would come up to me afterward and go, 'That's not a period. Those are three dots.' And your script supervisor did the same fuckin' thing!"
Although it was an uncommon approach for the actor, Baumbach's insistence on his cast remaining word-perfect was later crystallized for Hoffman during his memorization process—"I'm a very slow memorizer," he admitted. He wrote out all his lines by hand and asked the writer-director to read back the text as he'd originally imagined it. By the end, the musicality of Baumbach's stylized writing became clear.
"I never understood actors that don't want line reads," Hoffman said of his process. "If the person who's written it has an ear for what it sounds like, sometimes I want to know what's in their head when they've written it."
On tweaking a script to suit an actor.
When asked if he'd ever gone back to adjust elements of his script after his film was finished casting, Baumbach replied, "If I have the script in a way that feels right to me, I'm more interested in seeing an actor find their way through what I've written. That doesn't mean we won't change little things here and there, but if it's cast right, even if they're not fitting exactly right away, they have to stay with what's been written to find it, rather than scrap it and try and rewrite the dialogue."
On the influence of physicality on the text.
"If an actor is having trouble with the dialogue, a lot of times is means something's wrong with the blocking," noted Baumbach. "A lot of what I do [while] putting the script on its feet is figuring out what the movement is, because I like there to be a lot of movement."
Hoffman chimed in, saying the director is likely going "down in history as a director who does at least as many takes as Stanley Kubrick," before he commented on Baumbach's dexterity with directing the camera, and spoke highly of his ability to work with actors to nail long-take shots before describing the process from Baumbach's perspective. " 'You're walking out of the bar and the cameras inside. You see your profile and then you come in the door, but there's people there, background, and you can't say that line yet. You gotta hold it until you clear that person and then you gotta go around—don't say the other [line] until we can see you between those two people, walk up the stairs and then sit down at the table and the camera comes in in a close-up.' That is very, very difficult to get everything [right]. And you don't want the audience to think that's what you're concentrating on!"
On 'Midnight Cowboy.'
When an audience member quoted Hoffman's character from the iconic John Schlesinger film, the actor recounted the story behind his famous line, "I'm walkin' here!"
A shoestring budget has Schlesinger loading the camera into a van and following Hoffman and Jon Voight down Sixth Avenue trying to navigate real New Yorkers, traffic lights, and multiple takes.
"And we finally get it after the 50th take and we're so happy at this point in the dialogue, Jon and I, and we're at the corner and the light turns green and we're able to keep walking, and a fucking cab…" he paused until the laughter died down, "And the truth is, this is the way the brain works. What I had in my head was, 'We're making a movie here!' but I couldn't say that. So the brain changes it to, 'I'm walkin' here!.' But really what was said from me was, 'We're shooting here!' "
Want to walk onto a film set with a part to play? Check out Backstage's film audition listings!