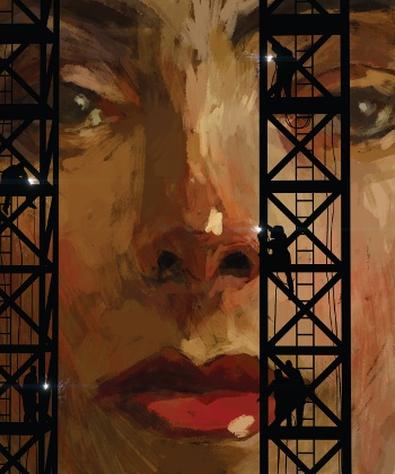 I remember reading an article about a certain Hollywood starlet who swore her entire career changed once she dyed her hair red. It all seemed so simple. If you mixed a perfect combination of old Hollywood lore (it worked for Harlow and Monroe, right?) with a touch of impulsivity, you could theoretically change the entire course of your career by simply going to the salon.
By many accounts—including said starlet's—this technique is a tried-and-true way to unlock the elusive door to success. But this starlet also failed to mention the team of people working behind the scenes who may have recommended this change. Not to mention the fact that Hollywood only has so much room for each blonde, brunette, or redheaded leading lady archetype, so you may as well choose the most genetically rare shade.
I realize that this admission was supposed to simply be a charming anecdote to make an already endearing actor more endearing. But it brings up a sort of low-level anxiety for some actors. If the solution to "breaking out" is one dye job away, then what are we doing banging our heads against the wall after every rejection? Seems pretty straightforward, right?
I spoke to a few fellow actors during pilot season who were toying with the idea of new "looks" as a means to stand out. This could mean chopping off a few inches, adding some new highlights, maybe taking some light Botox out for a spin. It is all in the name of "business" and is usually followed with a new round of headshots so as not to confuse or shock any casting directors, dare you become unrecognizable. I myself have gone the opposite direction. I've kept my look consistent out of fear of what might happen if I actually did do something dramatic and it backfired.
Either way, this damned if you do, damned if you don't mentality can send you into a bit of a vanity-laced quagmire where you wonder if you're just one cosmetic change away from success. Our appearance is one of the only areas we can control as actors. We have the ability to manipulate and change the external. So will changing one's look actually make a difference when producers, directors, and casting directors are reviewing our audition tapes? Maybe. Maybe not. There are a variety of factors that will come into play, all of which are entirely out of our control. Just take comfort in the fact that at the end of the day, when you sit in that hair and makeup chair, they're going to do whatever they damn well please to you anyway. In fact, I'm convinced the new chic bob trend preferred by our leading ladies is simply a symptom of rampant straight-iron abuse.
Obvious point being, you should do whatever you want to your face, hair, or body because it makes you feel good. It's easy to feel held hostage by the uncertainties, but decisions should be made for yourself and yourself alone. Not for some mythical executive in a suit who is analyzing your hair color.
But if you can go red, by all means do, because the aforementioned starlet did and she looks fantastic.
Inspired by this post? Check out our Los Angeles audition listings!