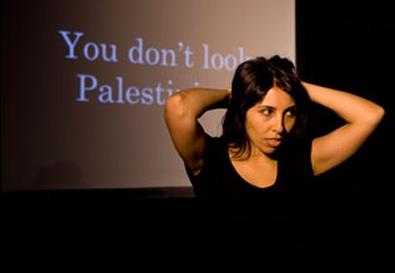 The Edinburgh Festival Fringe has become one of the most anticipated performing arts celebrations in the world. With thousands of performances in more than 250 venues, the 65-year-old event can be difficult to navigate. Luckily 59E59 Theaters brings a digestible selection of the Fringe-bound shows to New York. The 16-act showcase of plays and live performances runs July 10-29.
Elysabeth Kleinhans, the artistic director at 59E59 Theaters, created East to Edinburgh in 2004 as an opportunity for new artists to test-drive their material before a live audience. It's also a great way for Kleinhans to scope out talent for future seasons at the theater. "This is the only thing we do here that isn't curated," she says. "There's a lot of risk taking. Some things end up being quite amazing."
Here's a look at what to expect this year.

Navigating America
(59E59)

Writer and actor Denise Stewart performs an autobiographical story of traversing the American landscape, from rural Wyoming to small town North Carolina, in "Dirty Barbie and Other Girlhoods Tales." "It's a storytelling show and a story-showing show, moving through 20 years of my life," she says. Blending "comedy and dance and music and drawings," Stewart creates a portrait of family life in transition where saying goodbye to familiar people and saying hello to strange places are integral to the journey.
A Homosexual's Guide to Love and Sex
(59E59)

A man takes a mysterious job in the Empire State Building and discovers he has the skills to be a desirable phone sex operator. The absurdist sexual universe of "Michael Pope is Gay for Pay" is the creation of writer BriAnna Olson based on a memorable, personal experience. While the play creates a surrealist comedy, Olson work aims to evoke "that kind of courage we each need to find within ourselves," Olson says. "Despite what the title might imply, the ideas addressed in the show transcend any one community. These are ideas that speak to those of us, to any and all of us, that feel disenfranchised from society at large for whatever the reason."
The convergence of gay marriage and Alzheimer's may sound like a loaded combination, but "Made For Each Other" is a sensitive love story that explores the differences between generations of LGBT individuals. Playwright Monica Bauer wrote the solo show specifically for actor John Fico, who is openly gay. In creating this play, Bauer wanted to explore the ways that being a young gay person today carries "a luxury previous generations could not afford." What happens when such a person falls in love with an older man who "comes from a time when discretion was the rule?"

Spotlight on the Middle East
(59E59)

"I Heart Hamas" asks what it means to be "Palestinian-ized" and "to be seen as a constant threat," according to author Jennifer Jajeh. The play opens that conversation by "exploring one Palestinian-American woman's funny, painful, and often surreal journey managing that identity and life under occupation." Jajeh hopes the play will spark "nuanced conversations about hyphenated identity, Palestine, and the war on terror."
A window into the elusive world of Muslim women, "Dirty Paki Lingerie" is an exploration of sex, religion, politics, and the place where all three converge. Aizzah Fatima wrote this play to express that "Muslim women are diverse in thought and religious practice," she says. "They are not universally oppressed." Hoping to spark a dialogue about "gender roles, identity, sexuality, and tradition versus modernity," Famita's play posits that Muslim women are "trying to navigate cultural and familial expectations like anyone else."
Black History, Revisited
(59E59)

W.E.B Du Bois was a monumental leader, dedicated to civil rights, yet he tends to fade in our collective memory next to figures like Martin Luther King. Alexa Kelly, the author of "A Man For All Times: W.E.B Du Bois," wants to bring him to the forefront. Kelly acknowledges that "the historical significance of Du Bois has been lost somewhat. He did not have any laws or decrees named after him, and likewise, he was not fighting for Black people only." "A Man For All Times" traces the life of Du Bois and examines how he became active in civil rights. "Some of the things Du Bois said are as relevant today as they were 100 years ago," Kelly says. "[He] devoted his every waking minute to the cause of civil rights."
East to Edinburgh runs July 10-29 at 59E59 Theaters, 59 E. 59th St., NYC. For tickets and more information, visit www.59e59.org.