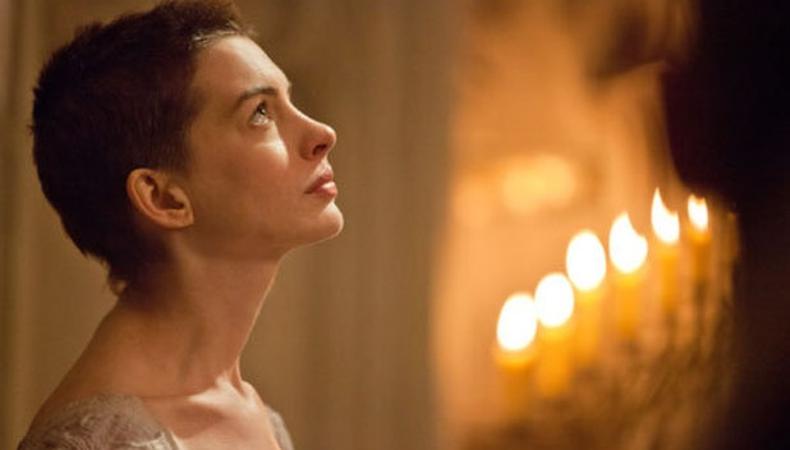 Director Tom Hooper had a lot to be thankful for this holiday—as he told the audience at a screening of "Les Misérables" at the Alice Tully Hall in New York, he had just finished the film Thanksgiving morning at 2am. The Friday screening at Alice Tully Hall actually marked the film's second screening; SAG Nominating Committee members had a chance to check it out a few hours earlier. And the response out of New York was ecstatic. There is a great write-up from Kristopher Tapley of In Contention here and one from The Hollywood Reporter's always astute Scott Feinberg here.
Today, the film screened for L.A. audiences in an aggressive schedule by Universal Pictures—six screenings in one day, each of which was either preceded by introductions or followed by Q&As with Hooper and cast members. There was some debate as to whether the film would be as embraced on the West coast, which seems silly in retrospect. The first screenings took place simultaneously at 12 noon at both the Mann Chinese Theatre in Hollywood and the Aero Theatre in Santa Monica. And both played to cheers and standing ovations, not unlike the New York screenings.
While formal reviews are embargoed until Dec. 11, I was able to attend the Aero screening and can vouch that "Les Misérables" changes the Oscar game. Already a front-runner sight unseen, the film will definitely be a contender across the board. Anne Hathaway is a lock for a nomination and probably the win as the tragic Fantine. Hugh Jackman has finally found a role that serves all his talents, and will give Daniel Day-Lewis a run for his money. (Jackman and Hathaway singing together did cause me to fondly remember their duet on the Oscars in 2009.) While the Russell Crowe has a chance at supporting actor for playing villain Javert, he might be pushed out by Eddie Redmayne, excellent as the young lover Marius. Samantha Barks could also earn consideration for her turn as Eponine. Nominations in all the technical categories are a sure thing.
At the Q&A following the screening, Hooper earned an enthusiastic standing ovation. He then went on to introduce three of his cast members, and I'm not sure why anyone bothered to sit down, as the audience rose for each one--Redmayne, Amanda Seyfried (Cosette), and Barks. The group spent a lot of time praising the performers who weren't there, particularly leading man Jackman. Hooper revealed he wasn't sure he could make the film unless he found his Jean Valjean. "My shortlist rapidly became one, and that was Hugh Jackman," said Hooper. "I couldn't have made this film without him."