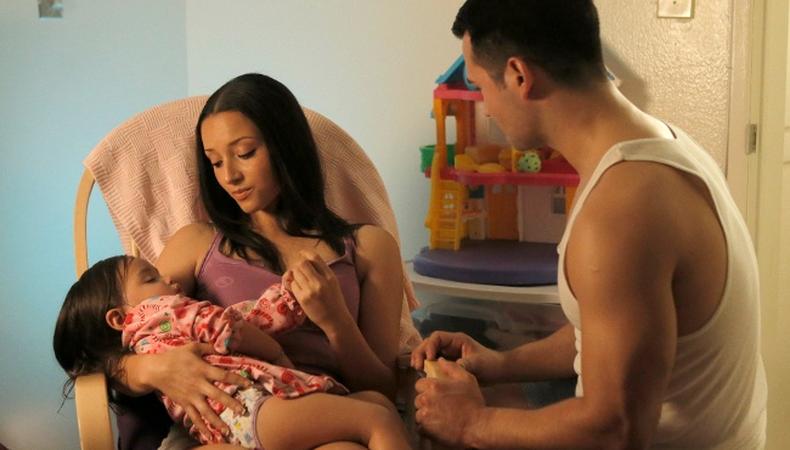 Developed through a grant, "East Los High," a telenovela-type high school drama series, took a nontraditional path to production. Executive producer Katie Elmore Mota was working on long-running dramas and novelas that dealt with an array of social and health issues in regions like Africa and Latin America for the Population Media Center. When the company received a grant to develop a program in the U.S. focusing on teen pregnancy, "East Los High" was born.
"There's a big need to provide Latino teens with important social and health information in a contextual and engaging way that they could relate to," Mota says. Despite interest from traditional and nontraditional outlets, the first season was produced independently, with the aid of philanthropic funding.
Because of her social background and desire to create and stimulate change, Mota wanted to hire people from the community for which the content was created—so she brought on Carlos Portugal and Kathleen Bedoya to write and produce the series. They enlisted casting director Blanca Valdez, who specializes in the Latino market, with the goal of finding up-and-coming actors who could "be" the roles. Mota didn't want the actors "identified as somebody else already." Season 2 (premiering July 9) presented a challenge, since all of the characters graduated after Season 1. However, Mota says, "We got really fantastic new, young, fresh faces, with a mix of some of our returning cast."
They created the show with a multiplatform perspective in mind. "We wanted to create not only a show, but a universe for the show to live in," Mota says. And after meeting with Hulu, they knew they'd found a home for "East Los High."
"Hulu is the future of media and television content and how people—especially young people—are consuming entertainment. They also really understood how to program all of our [additional content that delves] deeper into the social and health issues in the world of 'East Los High,' " says Mota.
The executive producer believes one of the reasons the show garnered so much interest from distributors was because it tapped into an underserved market: English-speaking Latino teens. Throughout the development process the creative team worked with 15 nonprofit partners, as well as teenagers, as Mota wanted to ensure the show accurately portrays "the realities of what it means to be Latino growing up in East L.A. today." To create authenticity, they shoot everything on location in East L.A. With Hulu on board as a producer for Season 2, there will be some changes, including the transition to a completely union production. "But [it will] still have the same gritty style."
Like this story? See more of our Now Streaming articles here!