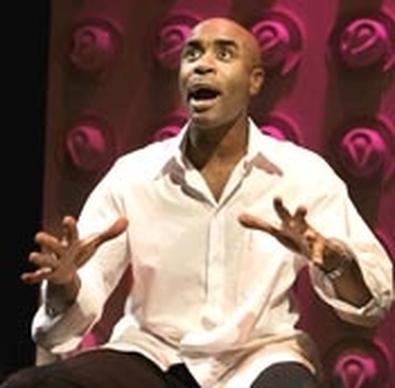 Don Reed, the author, director, and sole actor in this 90-minute piece subtitled with the triple pun "True Tales of a Reluctant Player," should also be claiming the role of choreographer. His dazzling tour de force is a nonstop dance of delineation of his own early life and the characters who populated it. With whirling bodily movement, as much as by vocal and facial impressions, he becomes his mother, father, stepfather, two half-brothers (one a womanizer, the other "端ber-gay"), his schoolmates, and his real father's assorted "business associates" and lady friends, with names such as Trout Mouth and Steak Face. Yet throughout, Reed somehow remains himself. I'm not buying the "reluctant" part, though: He's playing a player who became a player, with all barrels blazing. He is such a one-man band that I suspect he even had a hand in Matthew Allar's nifty set design, with its metaphorical two chairs (one a whorish red, the other a stern blond wood) and wall of 40 pimp's hats — 30 white and seven black, an apt ratio.
The play's title refers to a long street in Oakland, Calif., where Reed grew up in the 1970s. At the leafy suburban end of the avenue, he spent most of his childhood with his strait-laced mother and stepfather, the latter a BMW dealer and Jehovah's Witness, who insisted that Donny knock on early-Sunday-morning doors with him. Moving in with his father at the seedier far end of East 14th as a teenager, Reed discovers that the older man is a pimp — albeit an exceedingly tolerant, hospitable, and apparently fair one, whose funeral was attended by 300 mourners. Don's later teen years were thus colorful yet seemingly nonscarring. If being black in Oakland in the 1970s proved a detriment to Reed's human progress, we don't hear about it here. As both of his fathers were flush, for very different reasons, neither is this a tale of poverty — of any kind. It's also very refreshing to have a one-person autobiographical show that takes the more upbeat tone of "Look what they did for me" instead of the more usual "Look what they did to me."
Presented by Reediculous Media/Michael Singer at New World Stages, 340 W. 50th St., NYC. July 10-Sept. 6. Thu., 8 p.m.; Fri. and Sat., 9 p.m. (212) 239-6200 or (800) 432-7250 or www.telecharge.com.