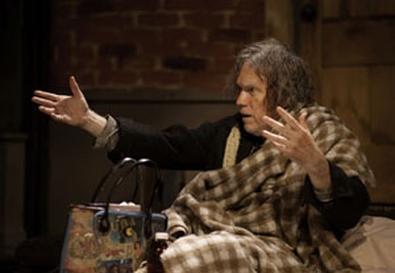 The Metropolitan Playhouse, one of New York's most valued sources in excavating America's theatrical past, here salutes the present with its second annual East Village Theatre Festival, a three-week celebration of the life and lore of the East Village. One of the festival features is "The East Village Chronicles," eight new short plays (divided into two evenings of four each) inspired by this vital neighborhood.
Evening A begins well with Larry R. Yates' "Bitter Fruit From the Bowery." In 1657, Asser Levy (Rob Maitner) comes to Peter Stuyvesant (Ralph Pochoda) demanding a permit to own a musket due to the threat of British ships in the harbor. As Jews are not allowed to own firearms, Stuyvesant begins a rant against every group in the colony that is not Dutch: Jews, Quakers, Lutherans, Catholics. With great economy—just 10 minutes—Yates is able to delineate two conflicting historical characters and suggest the vision of a future multicultural America. There's even an ironic touch about troubles on Wall Street: Each night, palings from the wooden wall are being stolen.
The subject of East Village gentrification is the background of two of the plays, best demonstrated in Michael Ian Walker's bright "Three Rooms." Christy (Kate Geller), assisted by her flamboyant friend Sam (Maitner), moves into what was once Allen Ginsberg's East Village apartment. Amid the packing boxes, William (Paul Bomba), a would-be journalist with possible New York Times connections, arrives to interview Christy. The resolution is a nicely observed combination of present and past.
Less successful on the subject of gentrification is Kathleen Warnock's "The Last Dream of Arky Malarkey." The titular street poet (John Fennessy), injured in the Tomkins Square riots, returns to the tenement he was born in, much to the dismay of its current tenant, Bet (Geller). Arky, his mind askew, then relives the history of the neighborhood. The results are fuzzy and determinedly sentimental.
It's ironic that "The Pretty Young Girl," by Claudia Barnett, based on a true 1894 story of a Stanton Street girl, seems the most unlikely play of the four. With a doting Jewish father (Gordon Kupperstein) but a cruel stepmother, daughter Rosie (Emily Gittelman) escapes into romantic novels to the point of death. The truth, alas, proves unconvincing.
All the plays in Evening A are directed with fluidity by Laura Livingston on basic sets. Geller demonstrates a pleasing versatility in several roles, while Maitner, contrasting a forceful Asser Levy and a gaily giddy Sam, is a performer worth watching.
In Evening B, each entry is directed resourcefully by Andrew Firda. Two of the four plays deal with a darker side of East Village life. "Stained Glass," by Lawrence DuKore, mixes the elements of crime, race, and the mafia in an uneasy brew. Artist Ladonna Rubin (Teresa Stephenson) has created a fifth floor stained-glass window, at which an African-American teenager named Orlando (Sidiki Fofana) persists in throwing stones. Ladonna's wheelchair-bound friend James (Russell Jordan) initially suggests buying a gun but then advises Ladonna to present her case to the local mafia chief, Don Pasquale DiMarco (a scarily dignified Ralph Pochoda), to achieve resolution.
That old theatrical favorite, a sleazy bar, is the setting for Bryce Richardson's "Baby Marty." This meandering slice of contemporary East Village life features the drunken Marty (Fennessy), barman Paul (Jordan), and baby-toting Zach (Paul Bomba), a musician and reformed drug addict, in chasing-its-tail dialogue.
"The Philosophers," by Robert Anthony, begins promisingly as a two-men-on-a-park-bench-discussing-life abstraction. Sammy (Fennessy) and Ernie (Kupperstein), amid a pile of old books, discuss the merits of reading, talking, and thinking. But the play descends into naturalism with the introduction of Abie, the pickle man (Pochoda), and never quite recovers.
Clearly, the best has been left for last. Alberto Bonilla's "Big Black Mexican Woman" is a joy. Told with economy and comic brio, Bonillo delivers a neat package of welcome humor. Susan (Stephenson), a Jewish Long Island housewife ready for bed and sex, has been struck by lightning. She staggers on stage to be greeted by John, a bike-riding angel (Jordan). Thus Susan encounters heaven, learning that she is not Jewish but actually African and Swedish; the records were mixed up in the 16th century. With John as her jolly guide, she finds that the play's title refers to Jesus. Both the attractive Stephenson and the talented Jordan play this original material to its zany hilt. When Susan asks why heaven looks so like the East Village, John advises: "Heaven is the East Village!"
Presented by and at the Metropolitan Playhouse 220 E. Fourth St., NYC. June 6–26. Mon., Tue., Thu.–Sun., 7:30 p.m.; Sat. and Sun., 3 p.m. (212) 995-5302 or www.metropolitanplayhouse .org.