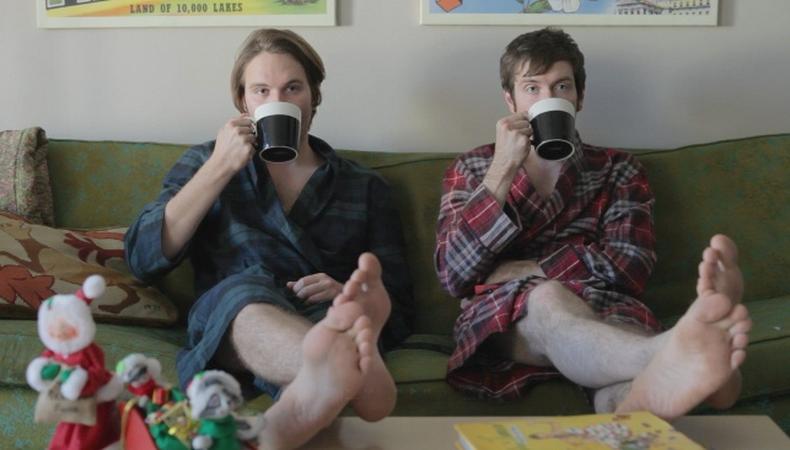 Shifting from stage to screen is a challenge—especially when writing, directing, and starring in your own project—but "EastSiders" creator Kit Williamson took his desire to write a character that sat "a little closer to home," and made an award-winning Web series.
"It's such a radically different rehearsal process and that's something that I had difficulty adjusting to when I first started making the transition from solely doing theater to also doing film and television," says the "Mad Men" actor. "You're used to nurturing a character and a script and letting it grow and evolve over time, whereas in film, you need to have immediate spontaneity; it has to come in the first few takes because you might not get more opportunity than that."
"EastSiders" follows (in short) relationships and the ways people screw them up. The dark comedy has Williamson playing Cal, and Van Hansis ("As the World Turns") as his boyfriend, Thom. When the truth surfaces that one of them has been unfaithful, it turns their relationship on its head.
"Something that was important to us in the show was having gay characters who just happen to be gay, that it wasn't a coming-out story—they just happen to be gay living their lives alongside straight people," says executive producer John Halbach, who plays Ian, the boyfriend of Cal's best friend Kathy (Constance Wu). "The gay characters and the straight characters are equally interesting, messed up, hilarious, and heartfelt."
It was something the two agreed was essential to getting to the core of "EastSiders."
"I want us to get to the place as storytellers where we're as comfortable with the sexual orientation of performers in film, television, and new media as we are onstage," says Williamson, a Broadway vet. "That's something I really love about New York: the fact that I don't feel there's a lot of discrimination in the industry on and Off-Broadway. I do feel that way about film and television, so I hope that new media can open the door to expand people's imaginations a little bit."
He says the Web gave him and his team space in terms of content, and after finding online success, LogoTV.com released the first three episodes in April. Williamson then launched a Kickstarter campaign to raise the $125,000 needed to shoot Season 2, and brought in over $153,000. Success brought financial comfort, but Williamson says it wasn't always so.
"I've acted in a lot of microbudget Web series and movies that never made it past the cutting room floor," he says. "That was another one of my motivations for making ['EastSiders']; I wanted to see a microbudget through from concept to finished product."
For actors thinking of making their own Web series, Williamson says not to be discouraged if your first time trying to make a project doesn't work out. "It's really an alchemy of unpredictable circumstances to find a group of people who are willing to come together, usually for free. People will promise you things at every step of the way that they will not deliver on...Just don't get discouraged, because if you keep trying you can make something you're proud of."
Like this story? See more of our Now Streaming articles here!