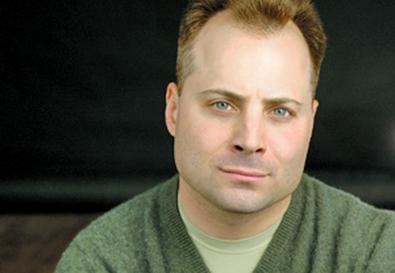 After losing close friends and being wounded in a mortar attack during his tour of duty in Iraq, Jerry Della Salla felt that his acting ambitions seemed trivial by comparison. He was also deeply troubled by media portrayals of soldiers as bloodthirsty and wasn't sure he'd be willing to play a military part. Though not an advocate of war, "I do want to communicate the soldier's experience," he told Back Stage in July 2007 ("Theatre of War"). "It's especially important in the entertainment industry, where snap judgments are made. I hope to go back to acting at some point—but not now. I'd rather come in as a military consultant."
Time has passed, but Della Salla says his views on that topic have not changed, which explains his initial reluctance to play an American soldier in "Green Zone," an action thriller set in Iraq during the early years of the war. Still, it was his first shot at a studio film and an irresistible opportunity to work with Matt Damon and director Paul Greengrass ("The Bourne Supremacy" and "The Bourne Ultimatum"). But most important was the creative team's commitment to authenticity.
In addition to Della Salla, many others in the cast are Iraq War veterans. They came aboard as actors—mostly background performers—but also served as unofficial military consultants. They made sure that every detail in the film was accurate, from the way a soldier holds his weapon to how he arrests an insurgent or bursts into the home of suspected terrorists.
Like Della Salla, Sean Huze is an actor with numerous theater and film credits. Brian P. VanRiper and Paul Karsko, who were not actors prior to appearing in "Green Zone," are now seriously considering acting as a career. VanRiper works on political campaigns and as a lobbyist for issues affecting veterans. Karsko is an admissions adviser at Kaplan University in South Florida. Both were tapped for the film by the organization Iraq and Afghanistan Veterans of America and auditioned as any other actor would. Besides being questioned about their perspectives on the war, they took part in improvisations, such as playing soldiers at a checkpoint questioning a suspected insurgent.
Matt and Paul and Making it Real
The veterans have nothing but admiration for the film's creative team, especially Greengrass and Damon, who were not only intelligent and accessible but courteous and respectful, they say. "Matt Damon would come to us and ask how one thing or another should be done," says VanRiper. "He was proactive in seeking out creative ideas and solutions. There was a collective agreement: 'We don't understand this, so please guide us.' "
VanRiper describes one scene he helped reshape, involving American soldiers pulling suspected insurgents out of a vehicle and throwing them against a wall: "I was shouting, 'Show me your hands! Show me your hands!' The first thing you'd want to discover was whether they had weapons on them." Though the scene was ultimately left on the cutting-room floor, VanRiper is pleased that his suggestion was incorporated.
Della Salla recounts an inaccuracy he corrected: "They had four of us in a simulated Humvee scenario. The problem is that there is never a four-man team in a Humvee. It's a five-man team. I went to Paul—and this was at my first major screen test, but I felt, 'Let me be honest with this guy.' And he really appreciated it. I think it got me the job."
Veterans bring a "bullshit meter" to the proceedings, Della Salla says, while Huze talks about the subtler interactions among soldiers that the actors playing them can use. "We have a bond, a short speak, and we use certain acronyms," he says. "We have gallows humor and lots of patience. We understand hurry up and wait."
Bringing it all Back
All four actors remark on how odd it was to be enacting events similar to those they had lived through. Much of the shooting took place in Morocco, where the landscape was eerily like that of rural Iraq, says Della Salla.
"I'm not squeamish and I'm not ashamed, but like many veterans I suffer from PTSD," he says, referring to post-traumatic stress disorder. "I had issues with driving. My heart would start racing, and my hands would become sweaty. Sometimes I'd get so anxious, I had to pull over on a road in New Jersey. There were no snipers around, but when you deal with it 365 days…"
Some of the scenes in the film were disturbingly close to events he experienced during his tour, Della Salla says, specifically those involving convoys moving through traffic jams in potentially hostile environments: "It was a hodgepodge of looting and things imploding all around you, and it sounded like real artillery fire. It was a challenge for me to deal with all of that again, and I'm thankful as an actor I was able to get through it. This has given me a sense of recovery. It was therapeutic."
Huze adds, "There was something synergistic about being in an Arab Muslim country as a combatant and then coming back to an Arab Muslim country as an artist. Some of the imaginary circumstances had close parallels to my own experiences, and it brought up some things that I had to tap into maybe for the first time." As a performer, he emphasizes, he doesn't regret reliving those moments, because truthfulness is an actor's job. Nonetheless, "it certainly created some restless nights. Fortunately, I spent them in a five-star hotel. It was not Iraq, where you can't say, 'I'm going to hit the spa.' "
All agree that the profound disconnect between a movie set and a real war zone contributed to a sense of the surreal. "Even as the makeup artists dirty you up, they make you feel like a million bucks, so that you can go out there and have confidence and do your best," Huze says. "Or the great lighting people, who hide the flaws that the makeup people couldn't. Actors tend to be coddled, so the only thing they have to focus on is getting it right between 'Action' and 'Cut.' "
Huze still marvels at his journey from actor to soldier and back. When he returned from Iraq, he had "trouble reconciling who I had been to who I had become: callous, unaffected, cold." Despite his suspicion that he would never act again, he has, and he now believes that his military experience adds depth to his emotional palette. He says he has also become more facile in accessing his emotions for his work—a skill he employed most pointedly in "Green Zone."
Karsko is also struck by having come full circle: "It was a little bizarre to go nine months to a year to two years where you've been trained to be so vigilant every waking minute, then you're back in civilian life, and then you're put into a fictional environment but you're wearing the same uniforms, carrying the same weapons, talking the same language, while you're being offered food and someone else is putting dust on your uniform and tying your shoes." He adds, "The night shoots in Morocco were eerie, but at the end of the day it's a movie and it's fun."
Moving Forward
Karsko was so taken with his experience in "Green Zone" that he is "actively pursuing more acting projects," he says. "It felt so natural, and on the basis of the conversations I had with Paul and Matt, who gave me some good pointers and felt that I could move forward, I'm confident." Since the film wrapped, Karsko has taken classes at Weist-Barron in Atlantic City and has retained the services of a publicist and manager. He is attending auditions and actively looking for an agent.
Likewise, VanRiper started taking acting classes when he finished his work in the movie, though he soon discovered he enjoys improvisation more than scene work. He is currently studying at the Upright Citizens Brigade Theatre in Los Angeles, but he insists he is not giving up his day job.
Huze recently moved to Baton Rouge, La., to work behind the scenes for K2 Pictures, a local production company. Besides acting and writing, he says his goal is to "greenlight projects and not be like Blanche DuBois, depending on the kindness of strangers. There are some wonderful film projects, and they deserve to get made."
Della Salla admits he made great emotional strides while working in "Green Zone." However, he is concerned about it becoming his career high point and being typecast as a military man. Not that he's ungrateful for the work, but he hopes that producers and directors can look beyond his past. He is excited about a new Christopher Martini film in which he is featured. It's titled "Trooper" and deals with veterans, "but I am not a soldier," Della Salla emphasizes. "I'm the friend."