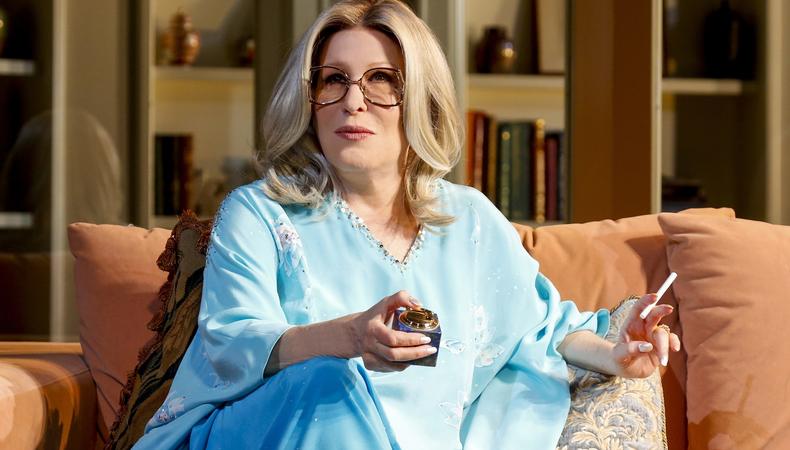 John Logan's solo show "I'll Eat You Last: A Chat With Sue Mengers" skips as lightly across its subject as a shard of shale whipping across a pond. Bette Midler, making her first Broadway appearance as someone other than herself in more than 40 years (she replaced as Tzeitel in the original production of "Fiddler on the Roof" in the late 1960s), is disappointingly content to reprise the Divine Miss M persona that she delivered so successfully in three Broadway concerts in the 1970s. Thanks to the lazy writing and acting, Mengers goes missing.
A quick tour of the Internet turns up a 1975 Mike Wallace "60 Minutes" profile of the famed Hollywood super agent—for which admittedly she must have been on her best behavior—that shows just how far off the mark Midler is. It also turns up a 2011 Deadline.com obit by Nikki Finke that offers a richer, more rounded portrait than Logan's glossy caricature. This was one interesting lady, but not onstage at the Booth Theatre.
Set designer Scott Pask has stylishly re-created Mengers' lush Hollywood digs. We are in her living room, where Midler is perched by director Joe Mantello on the couch for the entire 90-minute show, arising only to exit. It happens to be the day in 1981 that Mengers' biggest client, Barbra Streisand, whom she has known since they were both nobodies in New York City, has fired her—or rather Streisand's lawyers have. Mengers is waiting for the promised call from the diva herself. As she does, she tells us the story of her life and waxes philosophical about her profession and the Hollywood scene in profane and bitchy language that was apparently her trademark. The stories are amusing, the one-liners zing, and Mengers comes across as grasping, greedy, and awfully shallow.
Mengers was reputedly highly sedentary, but being trapped on that couch does Midler no favors. Her physical vocabulary is limited and thus repetitive—sweeping her hair back, exaggerated arm and hand punctuations, relentless double takes—while her artificial performance is archly campy, lacking any believable inner life. This is indicating, not being.
Evening comes rather abruptly on cue in Hugh Vanstone's otherwise bright lighting, but I did enjoy the slyness of watching reflections from Mengers' pool—she claims ignorance as to its location—wavering on the ceiling. Ann Roth's blue caftan is on target.
Perhaps I'm asking too much of what is intended as merely a bon bon. As the box office receipts for the show attest, many adore Midler in this mode. I'll pass.
Presented by Graydon Carter, Arielle Tepper Madover, James L. Nederlander, the Shubert Organization, Terry Allen Kramer, Stephanie P. McClelland, Jeffrey Flinn, Ruth Hendel, Larry Magid, Jon B. Platt, and Scott and Brian Zeilinger at the Booth Theatre, 222 W. 45th St., NYC. April 24–June 30. (212) 239-6200, (800) 447-7400, or www.telecharge.com.
Critic's Score: D