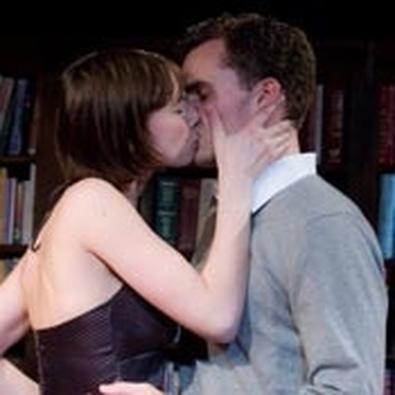 The six commissioned works have a locale in common -- a den -- and not much else. Except solid, challenging, and sometimes riveting craftsmanship of both word and performance, that is. The organizers of the fourth annual Echo Theater Company One Acts have assembled an unusually strong assortment of playwrights and actors who collectively deliver a most interesting evening. Beginning with Three Women, Julia Cho's 15-minute rumination on the life cycle of women, and concluding with Local Color, Hilly Hicks Jr.'s comedic look at language, heritage, and baguettes, the Echo One Acts offer 140 minutes of insight, wit, wisdom, and much in between.
The production offers arresting acting, too. Sixteen performers people the six plays, many of them ETC company members and none taking on more than a single role. Two actors, Tara Karsian and David Burke, also direct. Burke appears in David Ives' The Other Woman and helms Sharon Yablon's The Collection, easily the weakest of the sextet. The dens of each play are in a scholar's house; a Queens, N.Y., walkup; a Hidden Hills mansion; or somewhere unspecified. Our inhabitants are preening scholars, dumpy housewives, disaffected socialites, and oh-so-charming Latin hustlers.
Young Rob (Jeremy Lee Shranko) and Debbie (Alana Dietze), playing out two-thirds of a literary love triangle in Brian Tanen's I Know Who You Are, are planets away, characterwise, from gossipy best friends Marjorie (Alison Martin) and Elspeth (Tara Karsian), who reach a bit of uncomfortable truth in Padraic Duffy's The Dirty Laundry of Marjorie. Martin, playing a hilariously soft-spoken semi-prude, transitions expertly to a woman with a backbone. The evening's other bit of mastery is turned in by Andrea Grano as the sleepwalking wife of a writer in The Other Woman; Ives' play reflects intriguingly on love, secrets, and potential madness -- a haunting bit of work that closes the One Acts' first half with a chill.
The evening is dedicated to the memories of Pamela Siegfried and Robert Prosky, the late actor who was a member of ETC's advisory board and who -- one suspects -- would very much have enjoyed the output.
Presented by Echo Theater Company
at Stage 52, 5299 W. Washington Blvd., L.A.
Jan. 16–Feb. 15. Fri.–Sat., 8 p.m.; Sun., 7 p.m.
(800) 413-8669 or Echo Theater Company.