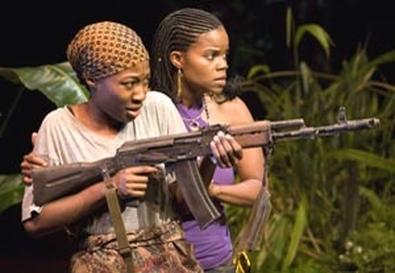 In this harrowing yet sometimes surprisingly humorous new play by Danai Gurira ("In the Continuum"), the theme of emotional survival during the bleakest of circumstances is driven home with startling immediacy. Director Robert O'Hara's West Coast premiere staging achieves a tour de force ensemble effort. Gurira's revelatory work, set during the brutal 2003 Liberian civil war, takes a powerful look at the travails of African women treated as human chattel. Based on interviews that Gurira conducted in Africa, "Eclipsed" examines the plights of women captured and held in a battlefront camp as sex slaves for a warlord from the rebel army.
The women are assigned numbers to denote the warlord's preferential order. Number One (Bahni Turpin) has the longest tenure at the camp and supervises the others. The defiant Number Two (Kelly M. Jenrette) has joined in the battle as a machine-gun-toting revolutionary to escape the warlord's clutches. The high-strung Number Three (Edwina Findley) is reluctantly carrying the warlord's latest child. Number Four (Miriam F. Glover), amuses the others with her ability to read, relating reports of the late-1990s affair between U.S. President Clinton and Monica Lewinsky. Arriving to offer the women hope for salvation is peace worker Rita (Michael Hyatt). The women face agonizing moral dilemmas, as when Number Two tries to persuade Number Four to join her on the battlefront, though part of that mission includes capturing other young girls to satisfy the lascivious warlord. The psychological damage inflicted upon women put through ordeals such as this is seen to be as debilitating as the physical violations.
Though the first act takes too long to establish the characters and story, the piece becomes gripping and thought-provoking as it progresses. The actors' exemplary work illuminates ironically funny exchanges alternating with heart-wrenching moments. Glover and Jenrette eloquently meet the challenges of the meatiest roles. Hyatt is a tower of strength as the courageous crusader. Turpin is forceful and moving as a woman determined to maintain her dignity. Findley garners laughs as the self-centered mother-to-be, obsessing over her appearance in the unlikeliest of circumstances.
Sibyl Wickersheimer's sprawling set superbly depicts the oppressiveness of the jungle domicile. Alex Jaeger's costumes, Christopher Kuhl's lighting, and Adam Phalen's sound design are masterfully conceived. Urgent social issues come into sharp focus in this profound and deeply affecting production.
Presented by Center Theatre Group at the Kirk Douglas Theatre, 9820 Washington Blvd
.,
Culver City. Sept. 20
–
Oct. 18. Tue
.–
Fri
.,
8 p.m
.;
Sat
.,
2 and 8 p.m
.;
Sun
.,
1 and 6:30 p.m
. (
No public performances Sept. 30
–
Oct. 2
.) (
213
)
628-2772. www.centertheatregroup.org
.