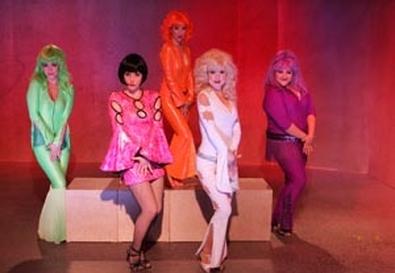 Librettist-songwriter S. Claus' tuner is billed as "a groovy '70s musical." In this premiere rendition, the score, production design, choreography, and overall sensibility indeed evoke the high-spirited era of The Partridge Family, disco fever, and psychedelic revelry, and the show feels like a stylistic descendant of
Hair
,
The Rocky Horror Show
, and other vintage rock musicals. Yet the book's references to such post-1980 issues as AIDS make its setting nebulous. The framing story takes place on an L.A. university campus, and the action quickly segues to a dream dimension recalling
The Wizard of Oz
, re-imagined as a sexual wonderland. This all adds up to quite a hodgepodge. The meandering narrative struggles to make its point about the importance of sexual freedom, and the subtext vaguely evokes the ongoing gay-liberation movement. The key to enjoying this scattershot concoction is throwing logic out the window. Settle for savoring the zesty songs, director-choreographer Kay Cole's ebullient dance numbers, and the vibrant efforts of a talented ensemble.
Nerdy campus bookworm Tom (Meyer DeLeeuw) longs for a romance with bespectacled and unglamorous co-ed Angel (Lisa Marinacci). She's better prepared than he is to cast shyness aside and consummate a relationship. Virginal Tom is petrified of taking that leap. When Angel sings "Follow Me," Tom suddenly finds himself transported to a bizarre hedonistic universe called Ecstasy, presided over by a sexy queen (Marinacci as a much different incarnation of Angel). Tangential story elements involve a brassy hooker (Dina Buglione), an evil moral-watchdog organization, a high-strung escapee from that group (Patrick Hancock), and a diva, Black Widow (Gina D'Acciaro). Few of the songs advance the story, and the labyrinth of diffuse episodes culminates in a rushed and contrived climax.
The two lead players are accomplished triple-threat performers. DeLeeuw's neurotic sad sack is appealing, and Marinacci makes an impressive transition from dweeb to sex goddess. Buglione and D'Acciaro give standout portrayals in colorful roles, and Hancock has good moments. Kurtis Bedford's set, Susanne Klein's costumes, Matt Richter's lighting, and Diane Martinous' hair and wig designs are imaginatively rendered. Brent Crayon's music direction is superb.
Presented by Theatre Planners at the Art/Works Theatre, 6569 Santa Monica Blvd
.,
Hollywood
.
June 6
–
July 12. Fri
.–
Sat
.,
8 p.m
.;
Sun
.,
3 p.m
. (
323
)
960-7789
.
www.plays411.com/ecstasy
.