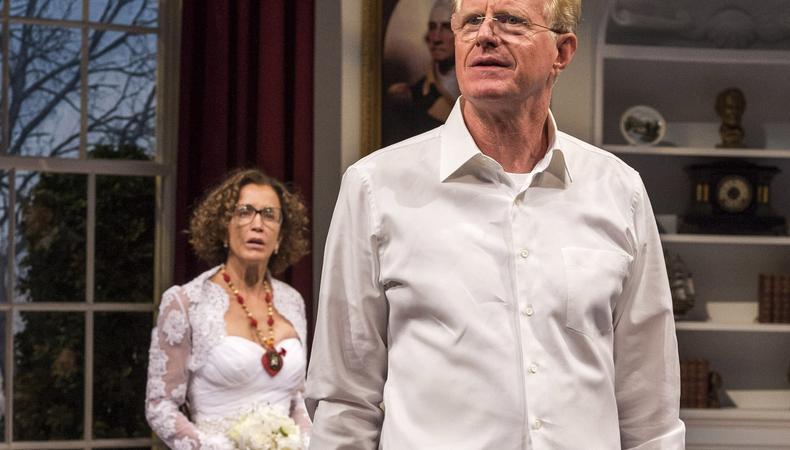 It's a week before Election Day, and U.S. President Charles Smith is going down the toilet. The polls have the incumbent dead in the water. The national head of Smith's own party can't come up with more than $4,000 for last-minute ad wars. A prominent Native American chief is calling in his tribe's government-ordained claim on Nantucket. The representative from the National Association of Turkey and Turkey By-Products Manufacturers wants to get a jump on the annual Thanksgiving pardon. Even the constantly telephoning first lady knows they're bidding the White House adieu. She wants to take their couch, but it was re-upholstered on the taxpayer's dime, as trusted dog wagger Archer Brown informs his beleaguered boss.
Paging head speechwriter Clarice Bernstein, as close to a moral center as this administration possesses. Of course she's probably got bird flu, having just flown back from China with the procured baby she and her partner long to legitimize by way of same-sex marriage. And there you have "November," which in its Mark Taper Forum production is proficient, efficient, and all but negligible. David Mamet's freewheeling 2007 political satire is facile, breathless, and brightly twisted, but its caustic aspects—think the most brilliantly scribed, overextended "Saturday Night Live" sketch ever—would be mixed even if their time stamp hadn't already been outstripped by subsequent historic developments.
Under Scott Zigler's brisk direction, events unfold with the cascading velocity and dazzling wordplay we associate with the veteran playwright. Few living theatrical writers can use profanity, absurdist logic, and symmetrically calculated conflict like Mamet can, and his refusal to give his protagonist a Republican or Democratic signpost is admirable. The show looks crisp enough, with scenic designer Takeshi Kata's clean Oval Office, Laura Bauer's realistic costumes, and Josh Epstein's unfussy lighting up to Center Theatre Group's standards.
As perpetually sneezing Clarice, the ever-wonderful Felicity Huffman almost steals the show, from first wheezing entrance looking like Fran Lebowitz as Berkeley coffeehouse owner to bridal-gowned apotheosis, twice hushing the house with Mamet's core theses. As Archer, Rod McLachlan is also impressive, sustaining this largely functional character with great control and panache. Todd Weeks' turkey executive is more pro-forma nebbish, though he, like Gregory Cruz, as Chief Dwight Grackle, gives his all to a role that is pure device (and almost pays off).
However, Ed Begley Jr., as dryly skilled a comic actor as we have, is valiant but miscast as Smith, a role originated on Broadway by Nathan Lane, which in itself explains why the mania never becomes airborne. It's not that Begley's bad; it's just that his particular quality doesn't exactly evoke a postmillennial Marx Brothers dementia. Nor are all of Mamet's quips and zingers the freshest, a surprising number of them suggesting high school locker-room taunts. That may be the intent, but satire for the lowest common denominator isn't really satire. "November," though adept and amusing, is hardly hilarious and essentially harmless. The last is what's most wrong with it.
Presented by Center Theatre Group at the Mark Taper Forum, 135 N. Grand Ave., L.A. Oct. 7–Nov. 4. (213) 972-4400 or www.centertheatregroup.org. Casting by Erika Sellin.
Critic's Score: C+