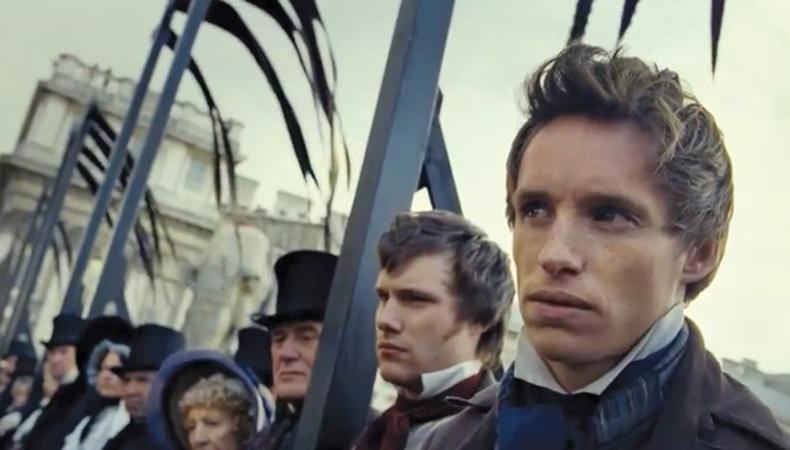 Eddie Redmayne did not get the part he wanted or the one he initially auditioned for in Tom Hooper's much-anticipated film adaptation of the musical epic "Les Misérables." But he didn't care.
"I was keen to be a part of the project, really, and I didn't go in with massive expectations," says Redmayne, who landed the central role of aristocrat-turned-revolutionary-turned-lover Marius in the film, which hits theaters on Christmas Day. "I just knew that my inner 7-year-old who still wanted to play Gavroche would not let me not have a shot at it."
So he put himself on tape with his iPhone and sent it to his agents requesting a meeting with Hooper. He originally tried out for freedom-loving revolutionary Enjolras, and though Redmayne is a Tony winner for his supporting turn in "Red" in 2010, he has never showcased his musical talents professionally, aside from a brief turn as a workhouse boy in Sam Mendes' production of "Oliver!" when he was 12. He calls the audition process for "Les Miz" "wildly terrifying," comparing it to "The X Factor" and "American Idol" eliminations.
However, his intimidation didn't come from the number of people behind the table—including producer Cameron Mackintosh and songwriters Claude-Michel Schönberg and Alain Boublil—but from making bold new acting choices. Redmayne grew up with the original cast recording as part of his family's "car collection," with original Marius Michael Ball singing "Empty Chairs at Empty Tables" engrained in his memory.
"You have to find a new way to interpret it," Redmayne says. "With that came some sort of choices that you're putting in front of Cameron and Claude-Michel, who've heard it sung with a particular dynamic for many years. You're sort of reinterpreting that thing and hoping that they approve. That was what was the more nerve-racking aspect."
Redmayne felt "a massive responsibility like I've never felt" in bringing the stage role to the screen; he also acknowledges, however, that the nature of the medium prohibited him from doing a carbon copy of Ball's performance.
"I was keen to make him as complicated as possible," explains Redmayne, who took inspiration from Victor Hugo's novel to chart Marius' evolution through subtleties instead of relying on the sweeping orchestrations that can often convey the needed emotion onstage. He still had to sing, however, something he hasn't done much of in the last decade, and Hooper's radical decision to have the cast sing live shaped the film and his performance.
"I can't imagine doing it any other way," he says of performing live, though he adds that singing on a shooting schedule of six days a week, 14 hours a day, was taxing on his body and his voice. (The take Hooper used was Redmayne's 23rd that day.) "It made it so much easier than having to spend 70 percent of your brain power thinking about moving your lips in time to a playback. It meant that we could be absolutely in the present moment."